Somdev Devvarman and Yuki Bhambri posted straight-set wins in their respective reverse singles as India completed a 5-0 whitewash of Indonesia in the Asia-Oceania Group I Davis Cup relegation play-off tie, in Bangalore on Sunday.
Somdev outplayed David Agung Susant 6-3, 6-1 in little over an hour while Yuki Bhambari registered a thumping 6-0, 6-1 victory over Wisnu Adi Nugroho at the Karnataka State Lawn Tennis Association Stadium.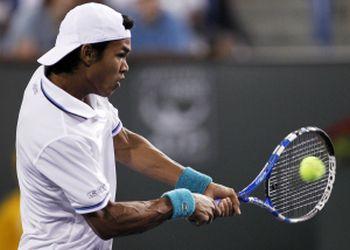 Non-playing captain S P Misra wanted Sanam Singh to play in place of Somdev but the Chandigarh youngster developed some wrist problem, forcing India to field Somdev in the fourth rubber.
Misra had the satisfaction of going on a high as he did the job for one last time as AITA would find his replacement before the next year's campaign.
India now stay in Group I and will strive to qualify for the World Group in 2014.
Somdev took some time to get into the groove but gradually overpowered his opponent with his trademark punching shots and baseline shots.
On the other hand, Yuki did not have do much as Wisnu made the job of the Indian much easy with umpteen number of unforced errors.
In the first match, watched by a motley crowd, the opening set went with serve until the sixth game when David dumped a forehand long outside the baseline to trail 2-4.
Though the Indonesian saved his eighth game negating Somdev to pull off the set, he lost the set in the ninth game when he blasted a forehand smash wide as he greedily eyed a winner down the line.
Both the players held serve until the third game of second set when David, running in hard across the ball, smashed the ball outside the sideline to give India 2-1 lead. However, the Indonesian did not give in easily in the fourth game, forcing the Indian to earn points.
Then Somdev broke the Indonesian for the second time in the fifth game after David smashed the backhand shot wide over the sideline.
Joy among the spectators mounted as Somdev broke for the final time in the seventh game. The Indian coming back from 15-30 down served hard before he sealed victory on his match point when David pushed a forehand smash wide.
In the second and final match, Yuki put on an impressive show, playing aggressively.
Yuki kept it simple and never let the Indonesian settle. He went through the first set without much resistance and smashed his way through in the second to seal the tie for India.
Photograph: Danny Moloshok/Reuters