Argentina cruised into the semi-finals of the Davis Cup and looked poised for a clash with defending champions Serbia who moved into a 2-0 first-day lead away to Sweden on Friday.
France were also well placed going into Saturday's doubles after Richard Gasquet clawed back a two-set deficit against Germany's Florian Mayer in Stuttgart as last year's runners-up also won both opening singles.
Spain went into their later quarter-final against the United States in Austin, Texas, without deposed world number one Rafa Nadal but there were rare Davis Cup outings for Roger Federer and Andy Murray in lower-tier ties.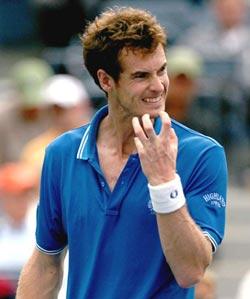 Federer, the 16-times Grand Slam champion, returned to the competition after a near two-year absence to help Switzerland into a 2-0 lead against Portugal in a European Zone tie, although he made 48 unforced errors while beating Rui Machado in four sets in Berne.
Murray made up for his recent Wimbledon semi-final defeat in brutal fashion, thrashing Luxembourg's hapless Laurent Bram 6-0, 6-0, 6-0 for a rare "triple bagel" to level the Euro/Africa Zone 2 second-round tie at one apiece in Scotland.
While Federer and Murray went about their business, the serious action was taking place in the World Group, although Serbia's clash with Sweden was also something of a mismatch.
Even with newly-crowned Wimbledon champion and world number one Novak Djokovic pulling out of the singles with a knee niggle, Serbia made short work of the lowly-ranked Swedes who are without their powerhouse world number five Robin Soderling.
Viktor Troicki beat world number 297 Michael Ryderstedt 6-3, 6-1, 6-7, 7-5 before Janko Tipsarevic saw off Ervin Eleskovic in quick time when his opponent retired hurt with a knee injury trailing 6-2, 1-0.
"First of all I am very happy I brought the point to my country," said Tipsarevic. "But I am feeling really bad for Ervin and I couldn't imagine this day would finish this way."
EARLY START
Victory for Tipsarevic and Nenad Zimonjic on Saturday against the decent Swedish doubles duo of Robert Lindstedt and Simon Aspelin will put the Serbians through to a mouth-watering home tie with Argentina in September.
Argentina began Friday already 2-0 ahead against Kazakhstan after their tie in Buenos Aires started a day earlier because of municipal elections on Sunday and the south Americans took a decisive lead when Juan Ignacio Chela and Eduardo Schwank beat Evgeny Korolev and Yuriy Schukin in straight sets.
Argentina, for whom Juan Martin del Potro returned to action, did not drop a set in the three rubbers.
"At the end of the day everything was easier than expected," Argentina captain Tito Vazquez said after Argentina reached their seventh semi-final in 10 years.
"Definitely we're looking forward to playing in the semi-finals. I think it will be against last year's champions, Serbia, and we'll see if we can give a surprise and get closer to what we want, that is to win the Davis Cup one day."
The performance of the day was from Frenchman Gasquet.
He trailed by two sets against Mayer but hit back to win 4-6, 4-6, 7-5, 6-3, 6-3 before Gael Monfils then beat Philipp Kohlschreiber 7-6, 7-6, 6-4.
Mayer, ranked 20 in the world, suffered from cramps as Gasquet turned the match around.
"I've never had cramps in my life, and I'd drunk enough, both before and after the match, so it must have been the tension," he said. "I could barely move in the fourth and fifth sets. It's a very bitter defeat."