'Rafa is okay, nothing serious. He did not have any stomach upset. He was playing in the US Open with the same wrist issue. It is getting better and better but still it is sometimes painful. We still have two days of competition. So he might play one of these days'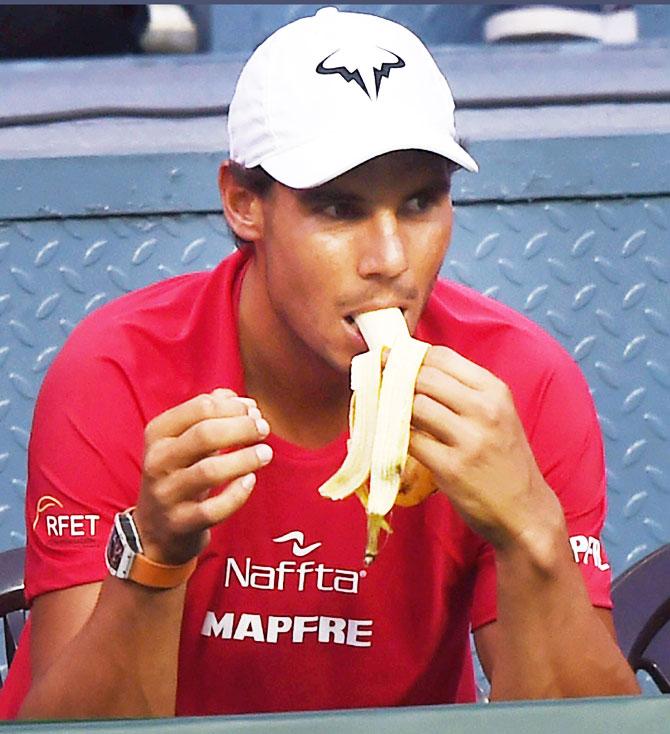 IMAGE: Spain's Rafael Nadal watches proceedings during the Davis Cup World Group Play-off tie between India and Spain in New Delhi on Friday. Photograph: Manvender Vashist/PTI
Rafael Nadal is still recovering from a wrist injury which led to his pulling out of the opening singles tie at the last minute on Friday, his Spain teammate Feliciano Lopez said.
- Davis Cup: Spain take 2-0 lead vs India in World Group play-offs
Lopez exuded confidence that the 14-time Grand Slam winner may turn up for the doubles in the Davis Cup World Group play-off against India in New Delhi on Saturday.
The last moment pull out of Nadal might have disappointed the fans at the RK Khanna Stadium but Lopez said the Spanish team was aware of the turn of events.
"We knew during the week that I might play the tie instead of Rafa as he was not 100 per cent sure if he will be up to for the tie. We spoke last night about it and till the last moment he was not 100 per cent sure. So I had an idea so it was not bothering me," said Lopez, who turned up in place of Nadal and defeated Ramkumar Ramanathan 6-4, 6-4, 3-6, 6-1 in the opening match of the World Group play-off.
"Rafa has been struggling with his wrist for last 2-3 months; he did not want to take a risk. We talked with the captain and decided it was the right decision that I should play. There is a good chance that he might play tomorow either with Marc or with me.
Lopez made it clear that Nadal did not have an upset stomach but did not take the field in view of the wrist injury.
"Rafa is okay, nothing serious. He did not have any stomach upset. He was playing in the US Open with the same wrist issue. It is getting better and better but still it is sometimes painful. We still have two days of competition. So he might play one of these days," he added.
Talking about the match, the World No 26 said: "I won two sets and then felt tired and lost the third but I was lucky to get an early break in the fourth. After that everything started getting easy for me.
"The atmosphere is great here and it is a good feeling to play in front of a big crowd. They wanted Rafa to play and unfortunately for them, he was not playing. It is great for tennis such a great crowd."
Heaping praise on Ramkumar, Lopez said: "He has a lot of potential and he can improve in many areas. He is a great guy with a big heart. He has been training in Spain and it is good for India to have a developing player like him."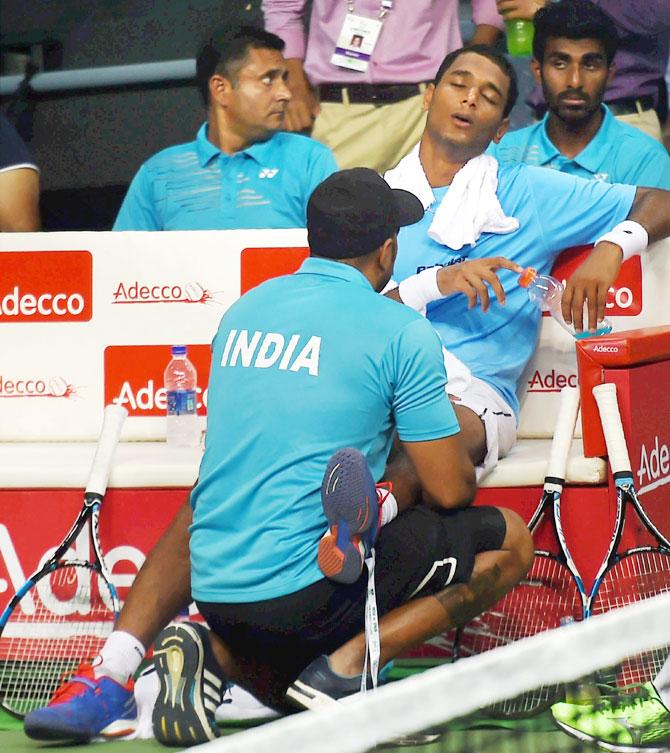 IMAGE: India's Ramkumar Ramanathan receives medical treatment during the match against Spain's Feliciano Lopez. Photograph: Manvender Vashist/PTI
Ramkumar had to take a medical timeout after the second set but Lopez said it did not affect the match.
"I don't think medical time out made any difference. I was 2-1 up and even after that there were seven games played, so it did not affect."
Ramkumar played his heart out in the encounter and he said he has no regrets.
"I have a respect for him (Lopez) but I knew that I could make a match out of it. It was just a matter of few points in the end," he said.
"I could give me best. It was tough for me. If I had taken the 4th set, I would have had a chance but he was really strong and putting pressure on serve, You have to be strong but he was brilliant," he added.
Asked if it affected him as instead of Nadal, Lopez took the court in the opening tie, Ramkumar said: "It didn't change my strategy. It is the same. They are all top 50 players. But to play against Nadal would have been really great.
"After the second set he (Lopez) started serving well and came up with some huge serve. I could not control the returns but I'll be taking a lot of positives. I don't regret anything."
On his medical time out, Ramkumar said: "It was just a catch and after they stretched me out, I was feeling fine."
Talking about his training days at Barcelona, he said: "To train in Barcelona helped me a lot in my fitness. I went there as a 15-year-old and I used to train for two hours fitness training. It made me mentally stronger and prepared me for bigger matches. My coach John, everybody there believed in me."
Asked who will play in the doubles match on Sunday, Lopez said: "I am tired. My muscles are tough. If I have to play I will play tomorrow. I will be ready. But about Sunday I don't know. Let's take one day at a time. We will see and pick the best doubles tomorrow."
India coach Zeeshan Ali said that not playing enough five setters had impacted on Ramkumar's game.
"Not having played enough five setters was the difference. Matches like the one he played in Chandigarh and here makes you mentally tough. It is different playing five setters. After the third set, it was difficult for him to maintain the intensity. If he could have kept it close in the fourth set initially, it could have been different," said Zeeshan.