Leander Paes has vowed to show his rookie teammates the way in order to help them make a worthy debut for India in the upcoming Davis Cup tie against South Korea, but acknowledged the task ahead is "tough".
Paes joined the Indian training camp on Tuesday and practiced for close to two hours with Purav Raja, his doubles partner for the tie starting Friday, and reserves Arjun Kadhe and Ashiwn Vijayraghavan, at the R K Khanna Tennis stadium.
Three Indian players will make their Davis Cup debut while Paes is representing the country in the tournament since the last 20 years.
Eleven leading players, including Somdev Devvarman, Mahesh Bhupathi and Rohan Bopanna, recently revolted against the All India Tennis Association, demanding better playing conditions, and in the process made themselves unavailable for the tie.
"We have been in this positions a few times, basically leading the team into a tie. Boys are going to have some nerves coming into the tie. I am looking to basically cushion some of that butterflies the guys will have," the 39-year old multiple Grand Slam champion told reporters in Delhi.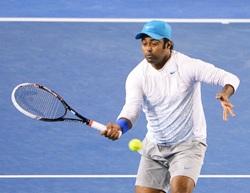 "It all depends on how an individual handles the occasion. For me, the call of the day is to tell them how to handle it. I will show them. We have a tough task ahead," Paes added.
Paes had some encouraging words for his teammates.
"Yes, there are rookies in our team. The exuberance, the fire is with them; you can see some nerves in them. You can see them looking up to the occasion, which is fresh and nice.
"This is my 24th year in Davis Cup and it's nice to come into a team that is pushing me hard, getting us to practice hard."
Like India, there are not much higher-ranked players in the Korean camp, but Paes rated the opponent highly.
"The Koreans are always a tough bunch. They have a lot of physical fitness, fast as a sporting community. They are always tough opponents. It's a while that I have played Koreans but I expect nothing different this time," he said.
It was a sweet gesture on his part, as Paes first involved captain S P Misra and then his partner Raja in the media interaction.
Asked how he views the upcoming tie in the backdrop of the controversy, he replied, "I am really not in this one. I am neither here nor there. For me the most important thing is to play; play best, put my best foot forward. That's what I do best. I have done that throughout my career. Athletes are best playing the game."
Paes said it is a great opportunity for the United States-based Purav to represent the country.
"I am practising with Purav for just under two years. He's my practice partner in Bombay when I go back. To play with your country's cap is a huge honour. It's not something we take it very lightly.
"You see, it's my 24th year and I am still out here with youngsters, pushing myself. For me, the greatest joy is to play for country. Great thing for Purav to come out and play, hope he's ready to carry my bag," Paes said.
When pointed out that the Koreans look more intimidating going by physical fitness, Paes said there is no need to worry.
"Professional tennis is physical and mental game anyway. We have proved that we are World champions, in various sport we have won gold medals. So this just another tie.
"Of course, they are a formidable team. For us, this team is a journey, going through transition. It's important for us to keep performing for country and keep playing for flag. Keep playing for the country is a big responsibility, that's why I am here," he said.
Photograph: William West/AFP/Getty Images