Young Apurvi Chandela helped India win its second gold from the shooting range winning the 10m Air Rifle event at the Commonwealth Games in Glasgow on Saturday as compatriot Ayonika Paul boosted the medal tally with a silver.
Chandela, 21, led from the beginning to finish top with score of 206.7 while Ayonika finished a creditable second with a score of 204.9.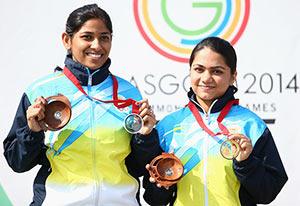 It was only fitting that the Jaipur girl, who started shooting only six years back after watching Abhinav Bindra win the gold at the 2008 Beijing Olympics, won in the ace shooter's pet event.
Chandela, whose father has built a shooting range at home, trains under her uncle Hem Singh.
She was consistency personified throughout the event as she topped the qualifying rounds with a score of 415.6. Ayonika qualified with a fourth position.
In the main round, Chandela regularly scored between 10.2 to 10.7 as she always maintained atleast 1.5 points difference from her nearest rival.
Ayonika was not in medal contention till the first 10 shots but she was brilliant in the back 10 as she regularly fired 10.5 to 10.7 to improve her position.
Earlier, Prakash Najappa had got a silver in the 10m Air Pistol event as India bagged two gold and two silver medals from the range.
Repacholi won the gold with a total of 199.5 while Prakash scored 198.2. England's 60-year-old Michel Gault got the bronze.
India on Friday had won a gold in men's 10m Air Rifle through Abhinav Bindra while Malaika Goel settled for women's 10m Air Pistol.
Image: Gold Medalist Apurvi Chandela of India (right) with silver medalist Ayonika Paul on the podium with their medals after the Women's 10m Air Rifle Shooting at Barry Buddon Shooting Centre.
Photograph: Paul Gilham/Getty Images