India's Avani Dave finished rock bottom in synchronised swimming on Thursday but it was no great surprise as she learnt most of her moves from YouTube.
Dave finished a massive 21 points behind Canadian gold medallist Marie-Pier Boudreau-Gagnon in the solo event at the SP Mukherjee Aquatics Complex on Thursday but was happy just to be taking party.
The 19-year-old marched confidently onto the platform before performing her routine to a tune from the popular Bollywood movie Bhool Bhulaiya, sometimes struggling to get her legs clear of the water but never losing her rictus grin. "I am always watching others on YouTube and learning from them," Avani told the Times of India newspaper.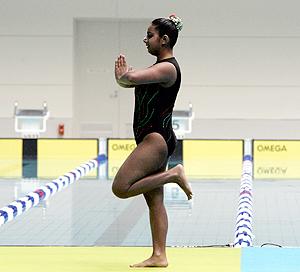 "I can't believe I'm sharing the same stage with them. I want to spread the sport to as many people as possible."
Dave rued the lack of a permanent coach for the synchronised swimmers in the country.
"We have a camp for 15 days, maybe a month, and they bring in a coach but each time it is a different coach. We have only seven synchro swimmers in the country," she said.
Scotland's Lauren Smith won the bronze and lashed out at those who thought synchronised swimming was a soft sport.
"People take the mickey out of us because of the make-up we wear, but it's a really hard sport. It may look easy, but you try it," Smith said.
"Like any athlete, we do strength, conditioning, speed swimming, and gymnastics. I train 42 hours a week, which is more than most athletes."