India's shooters and wrestlers emerged triumphant to kick off India's gold medal rush on the second day of the 2010 Commonwealth Games in Delhi, on Tuesday.
The shooters started off in style with a couple of medals and later in the day, the wrestlers swept all the three gold medals on offer to cap a fine days for the hosts.
A look at India's performance on the second day of the Delhi Games:
Narang-Bindra start off gold trail
The shooters kicked off their much-awaited campaign in grand fashion, winning two gold and two silver medals, at the Dr Karni Singh Shooting Range in Delhi.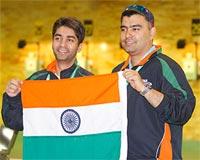 Abhinav Bindra and Gagan Narang started the mission in earnest, firing a record 1193 in the men's 10m air rifle event to give the country its first gold medal in this edition of the Games.
Rahi Sarnobat and Anisa Sayeed then followed it up with another gold medal in the pairs 25m pistol event for women.
Deepak Sharma and Omkar Singh (1187) then clinched the silver medal in 50m pistol for men, finishing just seven points behind Singapore's Bin Gai and Swee Hon Lim.
Women shooters Tejaswini Sawant and Lajja Goswami continued India's medal rush, winning the silver medal in the pairs 50m rifle 3 position later on a sunny afternoon to end the day on high for the hosts.
Wrestling trio complete sweep
The wrestlers were clearly the toast of the second day as they complete a grand triple.
Wrestlers Ravinder Singh, Anil Kumar and Sanjay Kumar swelled India's gold medal tally, winning their respective men's events.
Ravinder pinned down England's Terence Christopher in the second period, after taking a convincing 7-0 lead, to win the Greco-Roman 60-kg gold medal.
In the very next bout, Sanjay edged past South Africa's Richard Brian 1-0 in the 74-kg Greco-Roman category to earn India's second gold medal from the discipline.
That was followed by Anil Kumar beating Hassene Fkiri of Australia 3-0 in the 96-kg Greco-Roman event, making it three out of the three gold medals decided.
Hockey team edge past Malaysia
India had to play out of their skin as they rallied from a goal down to edge past spirited Malaysia 3-2 in a Pool A match of the men's hockey event.
Dhanjay Mahadik (27th minute) and Sandeep Singh (35) scored from two set pieces for India, while Bharat Chikkara (66) netted the winner just three minutes before the hooter.
For Malaysia, Hanafi Hafifihafiz (15th) and Azlan Misron (34th) were the goal-scorers.
Mixed day for archers
In a mixed day for Indian archery, the recurve section saw a thumping performance but the compound section was a big letdown at the Yamuna Sports Complex.
Top seed Rahul Banerjee, along with Jayanta Talukdar, booked quarter-final berths in men's recurve and the duo of Deepika Kumari and Dola Banerjee, too lived up to their billing to book a last-eight berth.
But the compound archers bowed out in the last 16 stage, leaving India in contention for four gold medals.
Bhupathi-Paes enter quarters
Leander Paes and Mahesh Bhupathi sailed into the men's doubles quarter-finals with a 6-3, 6-3 win over Sri Lanka's Thangarajah Dineshkanthan and Amresh Jayawickreme in the first round.
In the men's singles, top seed Somdev Devvarman survived a scare before progressing to the round of 16 after beating Devin Mullings of The Bahamas 6-4, 6-2 in the opening round.
Paddlers storm into quarters
India's women spanked Ghana 3-0 to enter the quarter-finals of the table tennis team event while their male counterparts consolidated their position by thrashing Guyana by an identical scoreline.
National champion Poulomi Ghatak beat Gyasi B Pokua 3-0 before her doubles partner Mouma Das spanked Ketu Akosua by the same margin.
Mamta Prabhu completed the thrashing with a 3-0 victory over Owusu-Agyei Efua Ofori in the women's Group D match.
The Indian men also put up an all-round performance in their Group B encounter.
A Amal Raj blanked Lewis Edinho Louis 3-0 before Olympian Achanta Sharath Kamal spanked F Christopher Anthony by an identical margin. Ravichandran Abishek thrashed David Paul Anthony 3-0 to complete the rout.
Confident start for Indian boxers
Indian boxers opened their campaign in style with Amandeep Singh (49kg) and Manoj Kumar (64kg) advancing to the pre-quarterfinals, following thumping wins in their opening bouts.
While Commonwealth Championships gold-medallist Amandeep defeated Kenya's Peter Warui 6-2, Manoj was so dominant against Sirrera Leone's Daniel Lassoyo that the referee had to award the bout to the Indian midway through the second round when he was leading 17-1.
Amandeep will next face Rawanda's Haziza Matusi and Manoj will now square off against Gomotsang Gaasite of Botswana.
Khade keeps India's hopes alive
Virdhawal Khade entered the semi-finals of the 50m butterfly stroke, even as six other Indian swimmers crashed out in different categories.
The para-sport swimmers brought smiles, as Kiran Tak (00:38.79s) and Anjani Patel (00:47.64s) progressed to the semi-finals in the women's 50m S9 women's freestyle.
However, Vineeta Pathak's timing of 52.58s was not good enough for her to move to the next stage.
Khade registered a timing of 24.72s to place eighth, but his compatriot Arjun Muralidharan could finish only in 26.37s and placed 20th. Only the top 16 make it to the next stage.
It was the end of road for Jyotsana Pansare and Fariha Zaman in the women's 100m backstroke. They clocked 1:10.07s and 1:10.38s respectively and placed 20th and 21st in the heats.
More disappointment was in store for India in the women's 100m freestyle, as Talasha Satish Prabhu also crashed out in the heats after finishing 26th overall with a timing of 1:00.41s.
Aaron D'Souza (1:54.10s) and Rohit Havaldar (1:58.15s) bowed out in the heats of the men's 200m freestyle
Ghosal, Chinappa exit
National champions Saurav Ghosal and Joshna Chinappa went down fighting as India's challenge in the squash at the Delhi Games ended.
World No. 26  Ghosal lost 5-11 9-11 13-11 5-11 to third seed Englishman Peter Barker in the men's event, while Chinappa went down fighting to world No. 1 Malaysian Nicol David 5-11 10-12 7-11 in the last-16 stage held at the Siri Fort Sports Complex.
Cyclists disappoint
The Indian cycling team were knocked out of the track cycling event in both men's and women's category at the Indira Gandhi Stadium.
Sombir, Vinod Mallik and Dayala Ram Saran failed to qualify for the men's individual pursuit with Sombir posting the best time of 4:54 minutes.
In the women's 500 metres time trial finals, the Indian women failed make an impression before making a tame exit.
Shuttlers whitewash Barbados
Saina Nehwal was in her elements as India whitewashed minnows Barbados 5-0 in the badminton mixed team event.
Jwala Gutta and V Diju thrashed Thorpe Dakeil Jonathan and Watson Shari Latoya 21-3 21-8 in just 11 minute match to put India ahead.
P Kashyap shone on his debut as he beat Reifer Nicholas Colin 21-14 21-6 in 17 minutes.
Saina also didn't waste any time as she crushed Eastmond Mariama Ayanna 21-3 21-6 in just 13 minutes to give Indian an unassailable 3-0 lead.
Sanave Thomas and Rupesh Kumar then streamrolled Reifer and Thorpe 21-4 21-9 in 14 minutes, while Aparna Balan and Ashwini Ponnappa completed the rout with a 21-8 21-8 win over Eastmond and Watson.
Netball team lose opening match
Australia outclassed hosts India in the women's event of the netball event at the Delhi Games.
Australia registered an emphatic 113-18 victory in the Group A encounter.
India will need to bounce back when they play Malawi in their second league match on Wednesday.
Lawn bowls team bounce back
The Indian Lawn Bowls team seemed unstoppable as they secured three back to back wins at the Jawaharlal Nehru Sports Complex.
In the first match, Dinesh and Prince outclassed Namibians Willem Erasmus and Jean Viljoen 3-1 via the tie-breaker.
The team once again needed the tie-breaker to get past New Zealand 5-1.
The Indian women's team also hit top form as they crushed Botwsana 2-0.