Nigerian Osayemi Oludamola won the women's 100 metres at the Commonwealth Games on Thursday after Australia's Sally Pearson was disqualified for a false start three hours after crossing the line in first place.
Pearson completed a victory lap after finishing first in 11.28 seconds only for an appeal by Team England to lead to her disqualification.
Australia's attempt to overturn the decision was unsuccessful.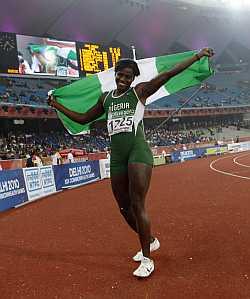 "The most disappointing part is that I was told I was clear -- I did my victory lap with the flag," a sobbing Pearson said.
"I was walking out to the medal ceremony and then I was called back. That's not right," she said
England appealed the result after their athlete Laura Turner was disqualified for the same offence. Despite the decision Turner was allowed to race under protest but her result did not stand.
Pearson's disqualification meant Turner's team-mate Katherine Endacott was promoted from fourth to the bronze medal position with Natasha Mayers awarded the silver, giving Saint Vincent and the Grenadines their first athletics medal.