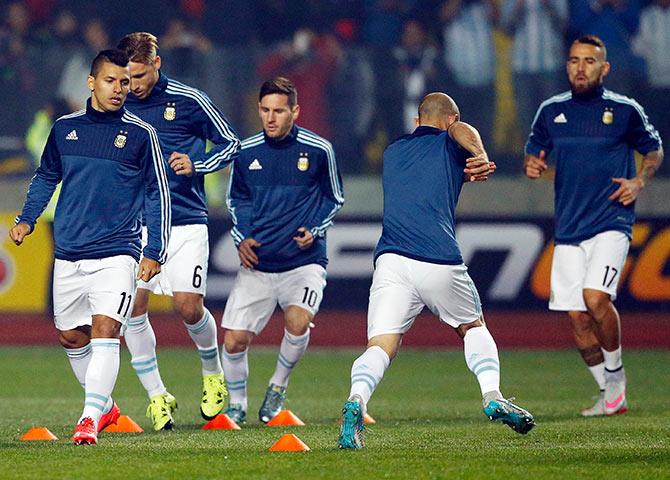 Argentina's Sergio Aguero, Lucas Biglia, Lionel Messi, Javier Mascherano (facing away) and Nicolas Otamendi warm up ahead of their Copa America match. Photograph: Mariana Bazo/Reuters
Coach Gerardo Martino believes Argentina can improve on Tuesday's 6-1 Copa America semi-final demolition of Paraguay, adding that aspects of the goalless draw against Colombia in the previous round had pleased him more.
Martino's main gripe was that Argentina had failed to press the Paraguayans hard enough to win back possession when they lost the ball.
"Our play was much better than in the match against Colombia," he told reporters, referring to the tense quarter-final clash that was settled in a penalty shootout.
"But in terms of winning back the ball, anywhere on the pitch, I think we were better in the game against Colombia than in today's game. We didn't press well, either when we were in their half of the pitch or when we were forced backwards.
"I'm happy about the 6-1 scoreline and playing in the final but if there's something that needs correcting I'll correct it, whether we draw 0-0, lose or win."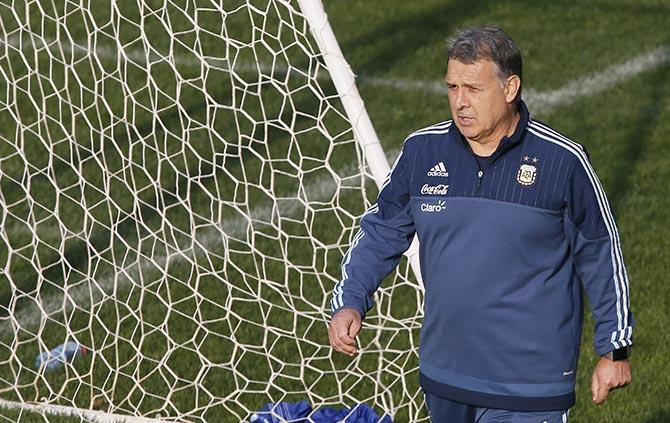 Argentina's national team coach Gerardo Martino attends a training session during the Copa America. Photograph: Rodrigo Garrido/Reuters
Argentina maintained their utter dominance of Paraguay in the tournament with two goals before the break and four in the second half to set up a final showdown against hosts Chile.
Angel di Maria scored twice with other goals coming from Marcos Rojo, Javier Pastore, Sergio Aguero and Gonzalo Higuain in a superb team display, orchestrated by an inspired Lionel Messi.
Argentina have played well throughout the tournament but until Tuesday had scored only four goals in as many matches as they struggled to kill off their opponents.
However, their victory was the biggest in a Copa America semi-final since 1997, when Brazil hammered Peru 7-0, and was Argentina's biggest win over Paraguay in the tournament since 1947, when they beat them 6-0 in Ecuador.
They have played Paraguay 24 times in the 99-year history of the tournament and have never lost. Likewise, the two finalists have played each other 24 times in the Copa America and Argentina have yet to lose.