Khumukcham Sanjita Chanu and Saikhom Mirabai Chanu bagged a gold and silver, respectively, in women's 48kg weightlifting in a display of overwhelming domination to open India's medal account on the opening day of the competition in the 20th Commonwealth Games in Glasgow on Thursday.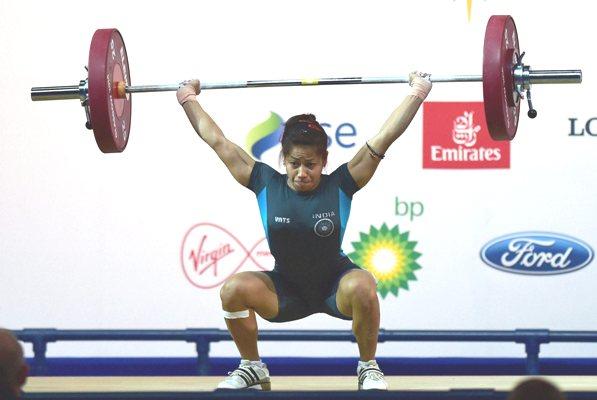 Sanjita won with a total lift of 173kg (77+96) while Mirabai grabbed the silver with a cumulative effort of 170 (75+95) in the absence of other strong competitors. Nigerai's Nkechi Opara was a distant third with 162 (70+92).
Sanjita's total of 173kg missed the Games record, held the name of 2010 CWG gold winner Augustina Nkem Nwaokolo (175kg effort) by two kilograms.
Sanjita's 77kg effort in snatch however equalled Nwaokolo's Commonwealth Games record.
The contest was all but over at the halfway snatch stage with 20-year-old Sanjita and 19-year-old Mirabai lifting 77kg and 75kg while Opara could come up with 70kg. The Nigerian's attempt to give a fight to the Indian duo failed as she could not lift 75kg in her third attempt in snatch.
She started on 72kg and then straightaway lifted 77kg, not dropping any weight in snatch. Mirabai failed in her first attempt to lift 75kg but achieved success in her third attempt.
It was basically a contest between the two Manipuris in an event which India had dominated for long in the Commonwealth Games from the days of Kunjarani Devi.
Kunjarani, now a women's coach, was beside the two state mates on the platform, egging Sanjita and Mirabai in her vernacular language. India had won a silver and bronze in this category in 2010. The clean and jerk contest went on almost similar lines with Sanjita and Mirabai taking the bar and the bell after most of their opponents had exhausted their attempts below the 90kg entry weight of the two Indians.
Sensing that they could be in for top two positions, the Indian duo raised their entry weight to over 90kg and put pressure and physical exertion on their opponents who had to continue their attempts in quick succession.
There was a brief moment of tension in the Indian camp after Opara and Mirabai lifted 92kg, and Sanjita failed to clear the same weight. But Sanjita lifted 92kg in her second attempt to give a sigh of relief to the Indian camp.
The contest left to be fought between the two Indians, Mirabai lifted 95kg to put herself in contention, but Sanjita roared back with a 96kg lift to retain the first position.
Image: India's Sanjita Khumukcham completes a lift during the 48-kg womens weightlifting event at the Commonwealth Games in Glasgow
Photo: Manvender Vashist/PTI