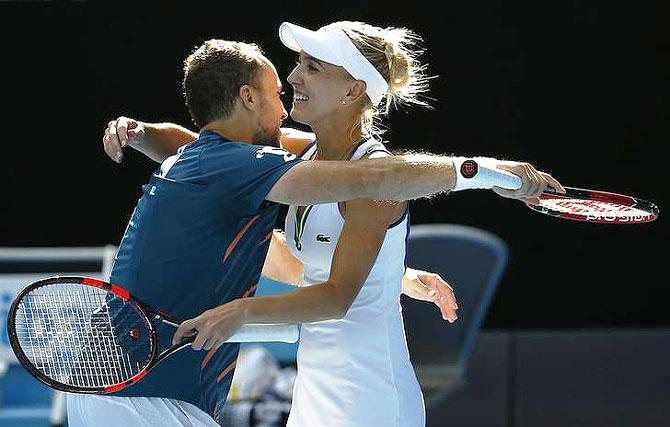 IMAGE: Russia's Elena Vesnina and Brazil's Bruno Soares celebrate after winning their mixed doubles final at the Australian Open tennis tournament on Sunday. Photograph: Issei Kato/Reuters
Brazil's Bruno Soares, fuelled by numerous cups of coffee, produced a doubles double on Sunday when he and Russian partner Elena Vesnina won the Australian Open mixed doubles title on Rod Laver Arena.
Soares, who won the men's doubles title with Britain's Jamie Murray that finished early on Sunday, clinched his second title in a little over 16 hours when he and Vesnina beat American Coco Vandeweghe and her Romanian partner Horia Tecau 6-4, 4-6, 10-5.
The Brazilian said after they clinched the trophy in the super tie-break that he had not slept well after he finished his official duties at 0400 local time (1700 GMT) and had sent Vesnina a text message at 0430 saying he was 'ready to go'.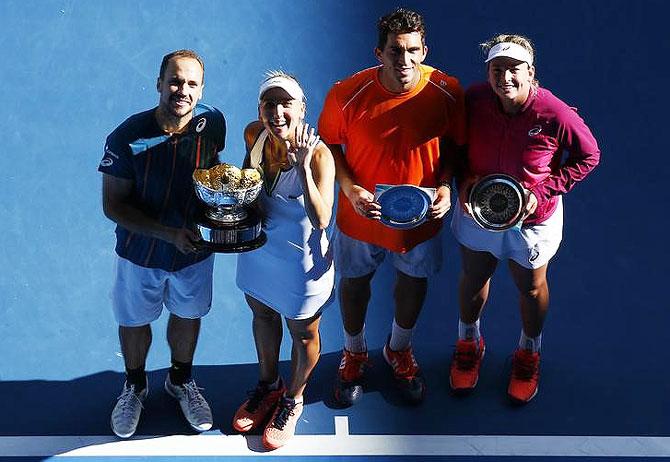 IMAGE: Brazil's Bruno Soares (left-right) and Russia's Elena Vesnina pose with the mixed doubles trophy beside runners-up Romania's Horia Tecau and Coco Vandeweghe of the US. Photograph: Jason Reed/Reuters
"Been living on coffee ever since. So I had 22 coffees already today. But now it's all worth it," Soares told reporters.
"It feels amazing. It was long days, tough days. Last night I finished really late. It's tough. A lot of adrenaline going on. Tough to sleep.
"But I knew I had another important day. You don't get the chance to play many grand slam finals. I think you got to make the most of it.
"To get the chance to play one and win one, it's already extremely special. I mean, I got two in the same day, so... it's special."