Muguruza thumps Halep in Cincinnati final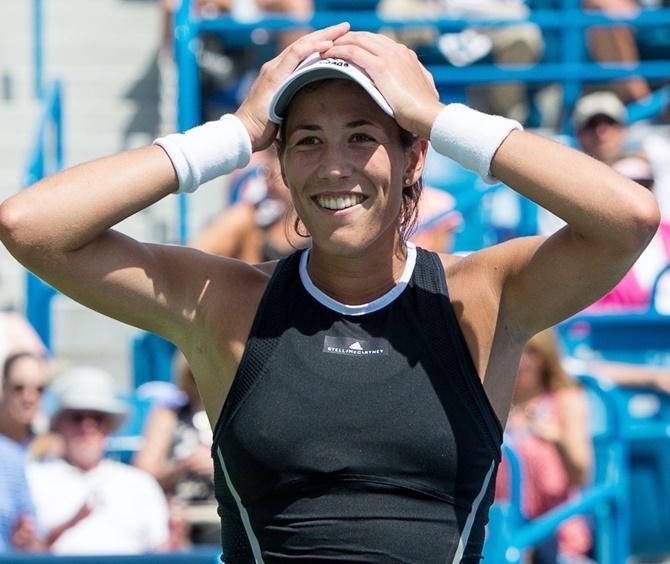 IMAGE: Garbine Muguruza celebrates. Photograph: W&S Open/Twitter
Spanish fourth seed Garbine Muguruza fine-tuned her preparations for this month's US Open by crushing Simona Halep 6-1, 6-0 in the Cincinnati Open final on Sunday.
Muguruza's tennis was as hot as the summer sun in the early afternoon match on the outdoor hardcourt, as she wrapped up victory in less than an hour.
The Wimbledon champion kept her opponent pinned to the baseline and improved her career record to 3-1 against the Romanian second seed.
With the loss, Halep once again fell one win short of rising to the top of the world rankings.
The Romanian, looking to supplant Karolina Pliskova from the top spot, entered the final without dropping a set all week but on Sunday her game fell apart.
Halep's second serve proved to be a liability, winning only 11 per cent.
Spaniard Muguruza, who had failed to capture a title for more than a year following her triumph at last year's French Open, was now celebrating winning two trophies in as many months as she backed up her Wimbledon victory with her glorious run in Cincinnati.
She credited Sunday's win on saving three match points in her third-round encounter against American Madison Keys.
"The match with Keys gave me a lot of confidence," Muguruza told ESPN.
"I like the big matches. I believe I play well there. I'm happy to be there, happy to be in that situation.
"When I was a little girl I was dreaming to be there. That's where I want to play."
But Muguruza declined to build up her chances for the US Open.
"The US Open is a very long tournament," said the tall 23-year-old.
"It's completely different. I'm just trying to play well."
Halep, who also squandered a chance to climb to the top of the world rankings when she was beaten in the French Open final in June, acknowledged she had performed poorly.
"I played so bad today and Garbine played so well," Halep, told the crowd.
"I will come back next year and try to do better."
Dimitrov downs Kyrgios to win Cincinnati Open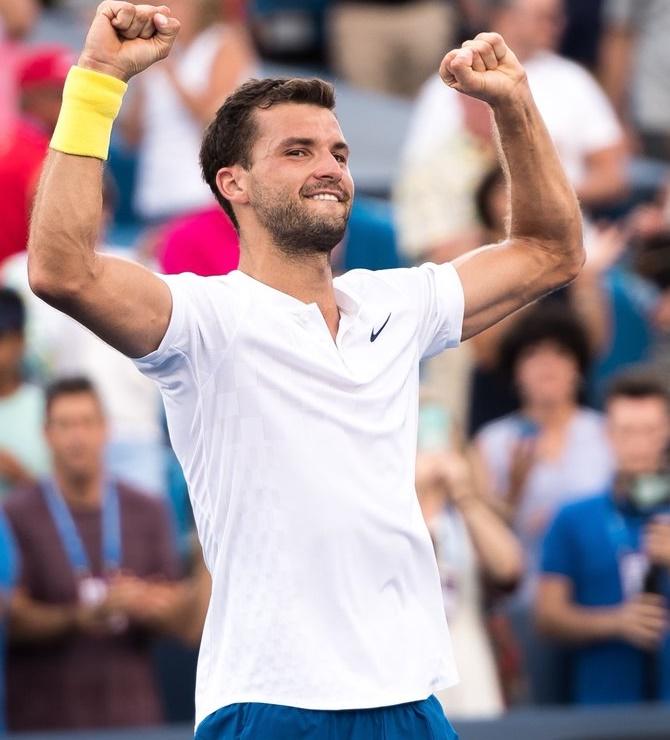 IMAGE: Grigor Dimitrov celebrates winning his first Masters 1000 series. Photograph: W&S Open/Twitter
Grigor Dimitrov clinched the biggest title of his career and enjoyed a huge confidence boost ahead of the US Open by beating Nick Kyrgios 6-3, 7-5 to win the Cincinnati Open.
With three of the 'Big Four' players nursing injuries and Rafael Nadal knocked out in the quarter-finals by Kyrgios, Bulgarian Dimitrov grasped his chance with both hands, winning his first Masters 1000 series event under a broiling hot sun.
A break in each set was enough for the seventh seed to claim his third title of the year and seventh of his career.
"I'm just happy. There's nothing else I can say, honestly," the 26-year-old told reporters.
"I'm just happy and I'm humbled to have that trophy in my hands, and especially to win here, my first Masters 1000.
"I always like this tournament. I have played it quite a few times and always thought this can be maybe one of the first ones, and it is the first one."
Dimitrov did not drop a set all tournament, the first player to do so at a Masters 1000 tournament since Novak Djokovic's 2007 win at Miami.
He was almost impregnable on serve, winning 52 of his 53 service games.
"Going to the (US) Open, it's for sure a lot of positivity with it," said Dimitrov, a semi-finalist at the Australian Open in January.
"But the most important thing now is just to stay grounded, keep on doing the same work, believe in myself, and just prepare the best way that I can for the Open."
Both players were in their maiden Masters 1000 title match but Dimitrov showed more poise than his 22-year-old opponent, saving a pair of early break points to set the tone.
Kyrgios's 31 unforced errors comfortably outstripped his 21 winners, the combustible Australian unable to find the magic he produced in his quarter-final win over Nadal.
But he was thrilled with his run to a first final of the year, having been jeered by the crowd three weeks ago at the Citi Open in Washington DC when he retired from his match with a shoulder injury.
"Looking back from where I was... I would have never thought I would have had my first Masters 1000 event final," he said.
"So I'm pretty happy with the result. From where I was to here, it's just been amazing.
"I lost today but I feel great. I feel great where I'm at right now ... I'm pretty excited for the US Open."
The US Open starts August 28.