'Would it not have been an inspiration for the Chinese people to see a 101-year old woman running'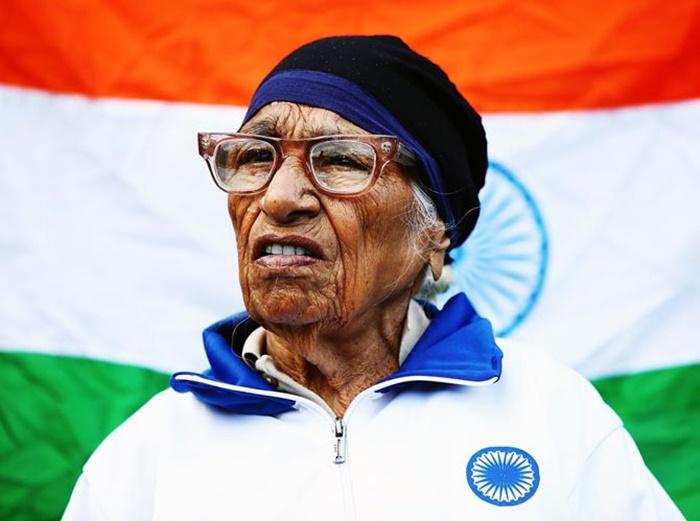 IMAGE: Man Kaur of India looks on after winning the 85-year-olds age group Javelin event in the World Masters Games at Waitakere Stadium in Auckland, on April 27, 2017. Photograph: Hannah Peters/Getty Images
China has lost an opportunity to witness something inspirational by denying visa to the 101-year old sprinter Man Kaur, who wanted to compete at the Asian Masters Athletics Championships, says her son Gurdev Singh.
The Chandigarh-based Man Kaur and her 79-year-old son were to participate in some of the events at the Championship in Rugao but their visa application was rejected on the ground of not having a personal invitation from the organisers.
"Would it not have been an inspiration for the Chinese people to see a 101-year old woman running and taking part in sports competitions," Gurdev asked.
"We had attached a letter from the Masters Athletics Federation of India with our visa applications. But the visa was denied and we were told that personal invite was required," Singh said.
Kaur, who won the 100 metres sprint at the World Masters Games in Auckland earlier this year, was looking forward to winning medals in the 100m, 200m, shot put and javelin throw events at the five-day championships, concluding September 28.
"I feel disappointed that the visa was not granted. I could have won some medals. I trained hard for the event over the last few weeks. It came as a surprise since I and my son have been travelling a lot but never faced this situation earlier," Man Kaur said.
Singh, who was to take part in long jump, 100m and 200m run, said, "we had stated that the Federation has been given the list of participants and they have mentioned our names. The Chinese Embassy could have also issued us visitor or tourist visa for four days. We had applied for the visas four days before the games were to start, which is their requirement as per their rules."
"We had purchased the tickets and made hotel bookings in China at our own expenses. But afterwards we cancelled our tickets and also had to re-schedule our tickets to USA and Canada."
In Canada, she is being bestowed upon a lifetime achievement award in October, details of which I will share later, Gurdev said.
Man Kaur, has also featured among the nominees for the prestigious 'Laureus World Best Sporting Moment of the Year 2017' Award.
"We seek the support of countrymen and sports enthusiasts around the world to vote for here in a global online poll," Gurdev said appealing for votes for his mother.
Kaur won her first medal in 2007 at the Chandigarh Masters Athletics meet.
She took up athletics at the age of 93 years "just for the heck of it" after seeing Gurdev run a race at Patiala.
The medal in Auckland, in April, was Kaur's 17th gold medal. She had clocked one minute and 14 seconds as a small crowd cheered her on.
In the run up to the competition, Kaur left no stone unturned in her preparation doing five sprints of 50m each, one of 100m and one of 200m every alternate day.
"I will continue to run and take part in competitions as long as I can. It gives me a lot of happiness when I run. I believe that age is no bar to chase and realise your dreams," said Kaur, hailed as 'Miracle Mom from Chandigarh'.
Besides Gurdev, Kaur has a 60-year-old daughter Amrit Kaur and a son named Manjit Singh, who is 72 year old.
Kaur and Gurdev have taken part in dozens of Masters Athletics meets around the globe.
Sharing her daily diet, Kaur had earlier said, "I take boiled vegetables, wheat bread. I take healthy food, if you take junk food, then how can you run. I avoid fried food.