Star striker Sunil Chhetri is doubtful for the Indian football team's international friendly against Yemen, according to chief coach Wim Koevermans, who was in Guwahati on Monday to take stock of the ground conditions for the November 14 match.
"Sunil's participation is not sure but it should not be a problem even if he joins at the last minute as he plays for a pretty big club like Sporting Lisbon. I am in touch with him," Koevermans said.
Koevermans was happy with the arrangements for the big match.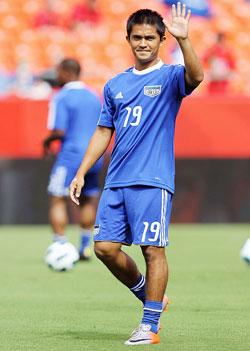 Talking about I-League, the Dutchman suggested that all matches should be held after sunset for the sake of players' comfort.
"Matches should be held in evening for players' comfort. I-League is on the right track but requires further development; the AIFF is trying," he said.
Koevermans, at whose insistence the AIFF had scheduled the match at Guwahati and who is expecting a good turnout, said he was delighted to see the players trying to play passing football.
"I am happy that players are playing that style and clubs employing also that. I am also happy with my support staff," he said.
Koevermans reiterated that the only way to improve India's rankings is through playing matches on FIFA dates.
"Rankings improve that way and we should play more such matches and not just Nehru Cup. That will also help Indian football."
Koevermans further stated that the team will take some time to settle down.
 "With players playing for different teams in the I-League, it will take some time to settle down, they are all professionals."