Deft moves by chess legend Garry Kasparov gave him a decisive upper hand against long-time rival Anatoly Karpov in the first set of a 12-game re-match in Valencia, Spain on Tuesday.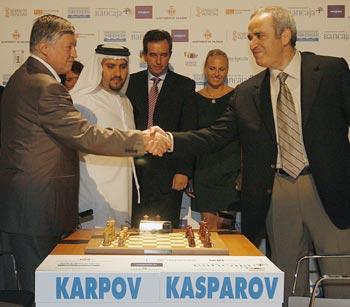 Kasparov won both one-hour games against a smart but slower Karpov as the two chess legends reignited one of the greatest rivalries in the history of chess this week with a speed re-match of their classic 1984 world championship contest.
A crowd of about 150 watched the tense match between the two Russian grand masters -- widely considered the greatest chess players ever -- in a less than half-full Valencia lecture theatre, 25 years after the pair first competed for the world title.
That epic duel ended in controversy and without a clear winner when the World Chess Federation unexpectedly called off the match after five months of play, citing health concerns for the players who were both representing the Soviet Union.
Then reigning champion Karpov, now 58, had won five matches while Kasparov, now 46, had won three with 40 other games ending as draws. Both players said they wanted to play on.
Kasparov, who is now a politician and vocal opponent of Russian Prime Minister Vladimir Putin, claimed the match was called off to save Karpov from defeat -- and a nervous breakdown -- as the match had come to symbolise the competing forces then at play in the Soviet Union. Karpov was a darling of the Soviet establishment.
The World Chess Championships restarted in Moscow about a year later and Kasparov went on to snatch the world crown from Karpov, becoming the youngest world champion with his win seen as youth triumphing over the ageing Soviet empire.
Kasparov held the title until 1993 when he broke away from the World Chess Federation (FIDE) to form the Professional Chess Association while Karpov was FIDE world champion from 1993 to 1999. The chess world title was only unified in 2006.
Kasparov trained for this week's rematch in the Norwegian capital Oslo with 18-year-old chess prodigy Magnus Carlsen while Karpov trained with a group of world-class players and with a computer, according to organisers.
The event is being broadcast live on Valencia's regional government website (www.gva.es).