Leander Paes and Mahesh Bhupathi gave the Indian fans something to cheer about by advancing to the semi-finals of the Chennai Open on Friday.
The top seeds scored a comprehensive 6-4, 7-6 (3) win over the British-German combine of Ken Skupski and Philipp Marx.
Paes and Bhupathi, playing after a three-day break following their come-from-behind opening round win over the Canadian-Swiss combine of Frank Dancevic and Stanislas Wawrinka on Monday, looked fresh and recharged.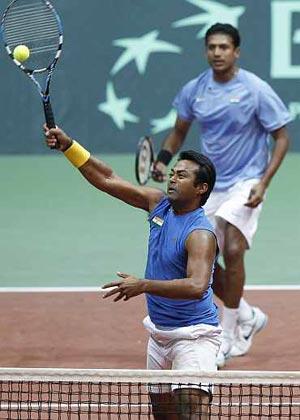 The duo, using the tournament to prepare for the year's first major (the Australian Open), began well racing into a 4-2 lead, forcing Marx to drop serve en route.
That lone break was enough to secure them the opening set in just over half-an-hour. The duo carried forward the momentum to break Skupski's serve in the opening game of the second set.
However, if they had thought that would suffice, then they were in for a surprise. For the British-German combine mounted a good comeback.
Bhupathi's serve was broken in the fourth game, courtesy a double fault on the decisive point, and Marx-Skupski were back in the game.
Things went on serve thereafter setting the stage for a tie-break. The Indian pair upped the ante at that juncture, racing to a 5-2 lead before sealing the match in 84 minutes.
"We have always made things difficult for ourselves in Chennai if one goes by history," said Bhupathi in the post-match conference.
"However, in this format every team has a chance. So, in the end we were fortunate to win in two sets," he added.
The top seeds will face the Croatian pair of Marin Cilic and Ivan Dodig in the semi-finals on Saturday. However, Paes refused to admit that the pair is now favourites for the title.
"It is tough to predict," he said, adding, "But the advantage we have is that we are experienced while most of the other teams in the draw are fairly new."
The Indian challenge in the singles had ended in the opening round itself.
And with hopes of a dream final against the Indo-Pak Express snuffed out -- with Rohan Bopanna and Aisam-Ul-Haq Qureshi losing their last eight match on Thursday -- the Indian Express should give the home fans a reason to celebrate by winning what will be their fifth title in Chennai, unless of course there is a twist in the tale.