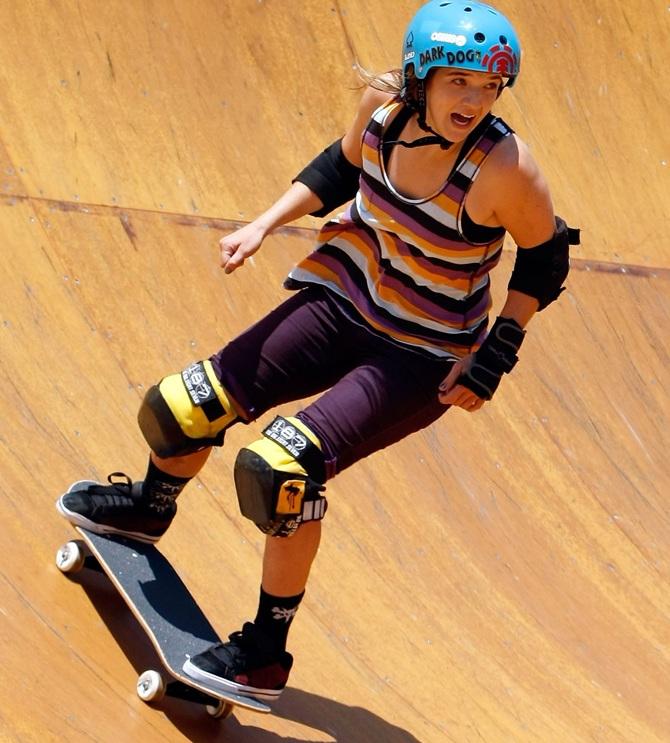 IMAGE: Karen Jonz competes in the Women's Skateboard Vert Final during X Games 15. Photograph: Jeff Gross/Getty Images
An overwhelming majority of Indians want to see more extreme sports, with a sizeable chunk voting for skateboarding to be made an Olympic sport, according to a new survey.
The 'Next Generation Events' report released at the 'Host Cities 2015 Summit' in Dubai identifies the top 10 trends for the future of events, drawing on YouGov research into the behaviours and attitudes of more than 2,000 young men and women, across 10 countries.
It finds 92 per cent young people in India say the number of major events they will engage with in the future will grow, 89 per cent think mass participation events are just as important as spectator events, and 92 per cent – more than anywhere else in the world – want to see more extreme sports, with the majority voting for skateboarding to be made an Olympic sport.
In India, 81 per cent of young people say their city would benefit from hosting a major event and would back a 'home bid'.
Given the choice, the event which most young people in India would like to see hosted is the FIFA World Cup – the event which most say made the biggest impact on them in the past four years.
The report also points to huge growth in the convergence of sport and entertainment – with culture and music festivals revolving around traditional sporting occasions.
Asked what type of events they are most interested in, close to seven in 10 young people in India say music festivals and arts and culture events.
Eight in 10 young people in India say future events must keep pace with innovation to stay relevant and over half think they will be watching the 2024 Olympic Games online.
Yet eight in 10 also agree nothing will ever beat the 'live' experience.
Zafar Shah, research manager for the report, said: "Major events live long in the memory and provide moments we never forget. They entertain, educate and inspire us – and they bring us together.
"What this study shows is that in the future, what sets events apart will be their ability to embrace emerging trends in preference, utilise new technology and envisage different, more engaging formats that win over a more switched-on and demanding audience."