Terek Grozny could face stiff penalties from the Russian FA after ChechenRepublic head and club honorary president Ramzan Kadyrov insulted the referee following Sunday's 0-0 draw against Rubin Kazan, calling him a "donkey".
The FA's disciplinary committee has scheduled a hearing on Wednesday to discuss the consequences of the events in Grozny.
Initially it was believed the stadium announcer had insulted FIFA referee Mikhail Vilkov over the loudspeaker, but Chechnya's strongman leader Kadyrov later admitted to calling Vilkov a "sellout and donkey" after he sent off Rizvan Utsyev late in the game.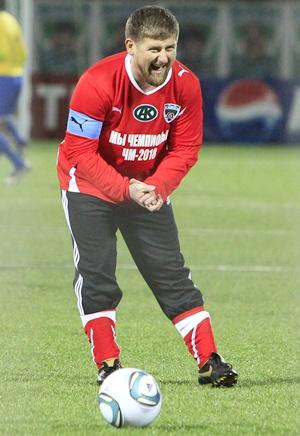 "Yes, it was me, Ramzan Kadyrov, the head of the ChechenRepublic," he was quoted as saying by local outlet R-Sport.
"I had valid reason for it. The same referee also made horrendous mistakes against our team in other league matches."
After the match the Kremlin-backed Kadyrov issued an apology for his comments but continued to criticise the referee.
"I want to apologise to the entire football world for my remarks but not to the referee," he said on the internet.
"It was a terrible game because the referee was biased. He did everything possible to change the outcome of the match - didn't award a (clear) penalty and gave Utsyev a second yellow."
Terek, who are in eighth place, could face a fine of up to 500,000 roubles or incur sanctions on their new stadium, named after Kadyrov's father Akhmat, who was killed in a bomb blast at the old ground in May 2004.
However, many Russian soccer experts think Terek will only be forced to pay a small fine and Kadyrov is unlikely to face any sanction because the Kremlin does not want to destabilise the situation in the volatile North Caucasus region.
"It's a total disgrace to our game. If people at his (Kadyrov) level make such outrageous comments, then what should we expect from ordinary fans?" former player Valery Reingold, now a media expert, told the Sport-Express daily on Monday.
In November 2011, Terek were fined 500,000 roubles by the Russian FA after FC Krasnodar striker Spartak Gogniyev had his ribs and nose broken after being beaten by the club's reserve coach and administrator during a league game in Grozny.
The two Terek officials had been banned for 12 months each, while Gogniyev was handed a six-game ban and $1,600 fine for his involvement in the incident and was later released by his club.
The Russian FA's decision to ban Gogniyev was heavily criticised by the world players' union FIFPro, which described the outcome as a "disgrace".
Photograph: Sergei Karpukhin/Reuters