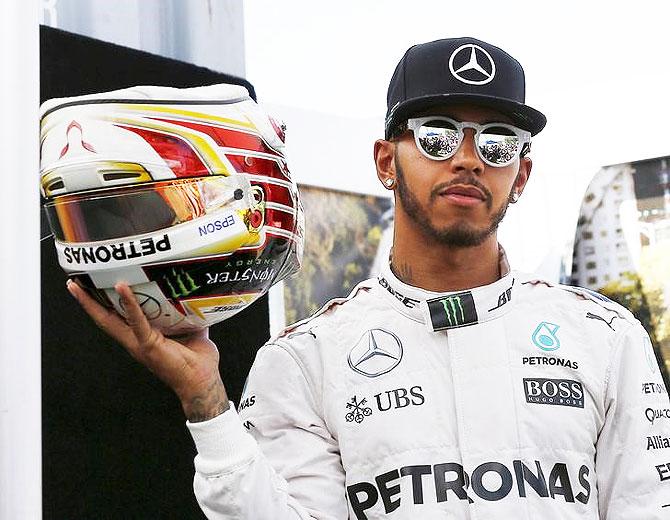 IMAGE: Mercedes F1 driver Lewis Hamilton poses for a drivers portrait before the Australian Formula One Grand Prix in Melbourne on Thursday. Photograph: Jason Reed/Reuters
The gap between Mercedes and the rest has narrowed and Ferrari "have something up their sleeve" at this week's season-opening Australian Grand Prix, according to champion Lewis Hamilton.
Mercedes enjoyed a near-flawless pre-season testing but Ferrari also showed promising pace to raise their hopes of ending the Silver Arrows' reign after two dominant seasons.
"I think this year the whole pack looks a bit closer. I think they have something up their sleeve this weekend," Hamilton told reporters at the pre-race media conference at Albert Park on Thursday.
"I think they have a lot more than they are talking. They have arrived on the low, but are going to deliver high."
Ferrari's four-time world championship-winning driver Sebastian Vettel said he believed the Scuderia's new car could challenge Mercedes for the title.
Both teams notched up plenty of laps at the Barcelona testing, with Mercedes showing itself the most reliable car and Ferrari setting encouraging times.
But Mercedes' true pace remains very much a mystery with the team not focused on posting fast laps during the off-season.
Hamilton, bidding for a fourth world title, said he might have hoped to have done more performance laps at the Circuit de Catalunya and suggested the team had kept their powder dry.
"But we did what we had to do and I guess we went into the testing with a goal of achieving 800 km a day," he said.
"We didn't actually think we were going to do it so perhaps in hindsight we would have shifted our running. But at the end of the day, it suited us perfectly."
Hamilton kept his social media accounts busy in the leadup to his Melbourne arrival, with a string of chatty posts from his travels in New Zealand, where he toured Auckland and the mountain resort of Queenstown.
The trip sparked a couple of minor controversies, with Hamilton tweeting a highly critical post of his visit to an Auckland casino and posting a video of himself riding a Harley Davidson motorcyle around the city.
Using mobile phones while driving is illegal in New Zealand and local police reviewed Hamilton's video before announcing they lacked "sufficient evidence" to take further action.
Hamilton, a road safety ambassador for the sport's governing body FIA, was grilled by a British journalist about his responsibility as an example for young drivers.
"I don't have much of an answer for you, unfortunately," he replied.