'I was slow enough to receive a time violation. I accepted. That's all. I think I was very quick during the match.'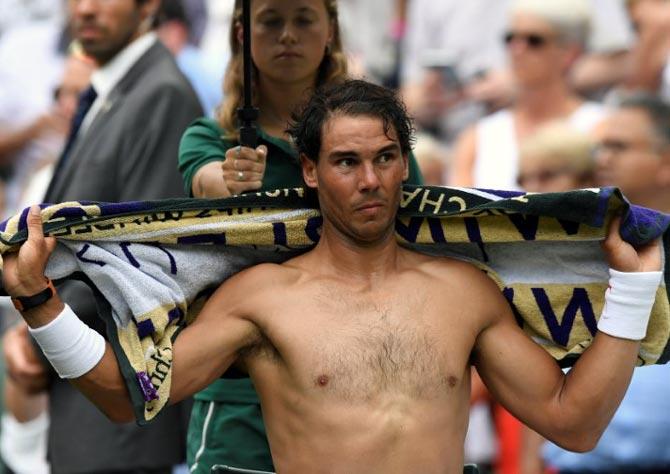 There is not much Rafael Nadal struggles with on a tennis court but when it comes to time management the 17-times Grand Slam champion admits he might have a problem.
The 32-year-old Spaniard gets so busy during changeovers -- re-arranging his water bottles, eating his bananas, folding bandannas or fiddling with grips and hand tape -- he often has to sprint to the baseline to keep the umpire off his back.
He was at it again on Wimbledon's Centre Court on Thursday during a hard-earned second-round win over Kazakh Mikhail Kukushkin.

Umpire Carlos Bernardes, who has history with Nadal, lost patience with the Mallorcan's tardiness before the start of the third set -- handing out a warning.

Nadal's brow furrowed but he accepted it and told reporters after his 6-4, 6-3, 6-4 win why he had been late getting out of his courtside chair.

"I was slow at that moment. You know, I know I had to take the wristband, T-shirt, banana out, change everything," he said.

"Probably I should go to the toilet. If I go to the toilet, I had plenty of time to change everything without the time violation. I decided to stay on the chair.

"I was slow enough to receive a time violation. I accepted. That's all. I think I was very quick during the match. Between sets I needed that time to change all this stuff because it was a very humid day.

"(The umpire) could avoid it but he decided to make it and I accept. I was slow."

On Monday, Nadal was critical of plans to introduce shot-clocks at the US Open this year and at Wimbledon next.

They would mean umpires could enforce the 25-seconds between points rule which many feel Nadal pushes to the limit.

In 2015 Nadal admitted requesting that Brazilian umpire Bernardes not be assigned to his matches after an incident in Rio in which Nadal said the official had not allowed him time to re-arrange his shorts after he had put them on back to front.

Nadal was asked about that incident again on Thursday.

"I can understand the time violations. I can't understand when I make a mistake, I put my shorts the other way," Nadal said to laughter. "You cannot force me to change my shorts in front of everybody. That's not respectful."

But he said he has no problem now with Bernardes.

"No problems with him. I respect when I am slow, accept the warnings. I do my best to be quick. Sometimes I'm not good enough to be that quick."