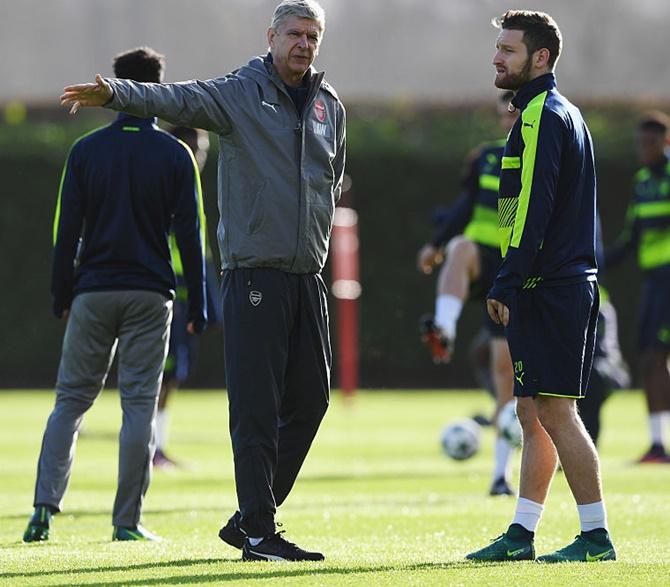 IMAGE: Arsene Wenger will hope for a face-saving miracle against Bayern. Photograph: Laurence Griffiths/Getty Images
Arsenal will have to produce the biggest second leg comeback in a Champions League knockout tie to avoid a seventh successive exit at the last 16 stage when they host Bayern Munich on Tuesday.
A 5-1 trouncing in Bavaria left the Gunners facing mission impossible for the return leg and confidence is hardly soaring after a 3-1 defeat by Liverpool on Saturday left Arsene Wenger's team outside the Premier League's top four.
Stranger things have happened, if not in the Champions League where no team has ever recovered from a four-goal deficit in the second leg of a knockout tie.
To progress Arsenal will have to better the feat of Spaniards Deportivo La Coruna who recovered from a 4-1 loss away to AC Milan in 2004, winning 4-0 at home to reach the semis.
The last time a team overcame a four-goal deficit in European competition was Real Madrid in the 1985-86 UEFA Cup -- beating Borussia Moenchengladbach 4-0 at home after suffering, like Arsenal, a 5-1 defeat in Germany.
Few Arsenal fans will travel to the Emirates with much hope though and, rather than provide one of the greatest comebacks ever witnessed, the fixture is likely to provide another soapbox for the growing band who feel Wenger's era is close to the end.
Arsenal's capitulation in Munich, together with Premier League losses to Watford, Chelsea and Liverpool in their last four Premier League games have stretched the patience of even Wenger's most loyal disciples to breaking point.
His decision to leave Alexis Sanchez, Arsenal's leading scorer, on the bench against Liverpool puzzled many.
"I really can't understand the thinking behind that, why Arsene Wenger wouldn't want to play him. He's their best player," former defender Martin Keown said.
While Wenger will hope for a face-saving miracle against Bayern, he is probably already looking ahead to next weekend's FA Cup sixth round clash with fifth-tier Lincoln City.
After that it will be trying to salvage a 21st consecutive top-four finish in the Premier League.
Bayern, on the other hand, are buoyant after a 3-0 win at Cologne extended their Bundesliga lead to seven points.
Manager Carlo Ancelotti will not be taking anything for granted either having been victim of one of the competitions most astonishing comebacks when Liverpool beat Milan in the 2005 final after trailing 3-0 at halftime in Istanbul.
Captain Philipp Lahm said Bayern will look to kill off Arsenal's lingering hopes early.
"We have to be highly focused and, most importantly, show Arsenal in the first quarter-hour they can forget the next round," the fullback, who will retire at the end of the season, said.
Napoli need to avoid distractions against Real
Napoli will need to stay focussed and avoid distractions if they are to have any chance of clawing back their two-goal deficit against Real Madrid in the Champions League round of 16, second leg.
Bidding to reach the quarter-finals for the first time, Serie A's highest scoring side certainly have enough talent to cause an upset against the titleholders, who are looking to reach the last eight for the seventh season running.
Napoli coach Maurizio Sarri, a former bank employee who did not play professionally himself, has moulded the likes of Marek Hamsik, Dries Mertens, Jose Callejon and Lorenzo Insigne into the most entertaining side in Italy's top flight.
Too often, though, Napoli seem to get distracted -- both on and off the field.
The latest episode began when their flamboyant club president Aurelio De Laurentiis publicly criticised the team after their 3-1 defeat in the first leg at the Bernabeu three weeks ago.
Not for the first time, he imposed a media blackout on both the coach and players, who have refused to give interviews since.
Italian media reported that Sarri had already clashed with De Laurentiis after a 1-1 draw against Palermo at the end of January.
There was more drama when Napoli reacted furiously after losing 3-1 away to Juventus in the Italian Cup last Tuesday, angrily criticising the referee for awarding two penalties to their opponents.
Juventus defender Giorgio Chiellini was among those who suggested that Napoli needed to calm down.
"At the end of the day, all this controversy just drains their energy," he said. "As a good Italian, I hope that Napoli don't waste too much energy, as I'd love them to beat Real Madrid."
Napoli are also prone to losses of concentration on the pitch.
They dominated Saturday's Serie A match at second-placed Roma but still had to cling on at the end for a 2-1 win after letting up in the final few minutes.
One of their best performances of the season came in the Champions League group stage against Benfica when they scored four goals in a stunning first hour, but again they let up and conceded two in the last 20 minutes.
A home defeat against Besiktas and draw with Dynamo Kiev then left them struggling to qualify for the round of 16, though they finally made it with a 2-1 win at Benfica in their final match.
Similar lapses on Tuesday are almost certain to be fatal.