Celtic manager Neil Lennon and two high-profile supporters of the Scottish Premier League soccer club were intended recipients of parcel bombs, police said on Tuesday.
Glasgow team Celtic have a predominantly Catholic fan base while city rivals Rangers have mainly Protestant supporters and Northern Irishman Lennon, a Catholic, has been the subject of several threats and physical abuse in the past.
He withdrew from the Northern Ireland team when a player in 2002 after a death threat, which media speculated, had come from Protestant loyalist paramilitaries in the province.
"Let us be quite clear -- there is a major police investigation under way to ensure that the individual or individuals concerned are identified and apprehended, and then brought to book with the full force of the law," Scotland's First Minister Alex Salmond said in a statement on Tuesday.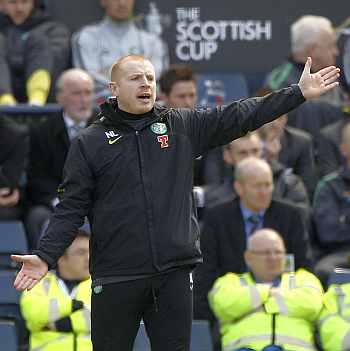 "We will not tolerate this sort of criminality in Scotland, and as an indication of the seriousness with which we view these developments the Cabinet sub-committee met last Saturday to ensure that the police investigation has every possible support to come to a successful conclusion."
Police said investigations were ongoing into the matter and a news conference would be held later on Wednesday in Glasgow.
Two other parcel bombs were also addressed to Lennon's lawyer Paul McBride and the former deputy presiding officer of the Scottish parliament Trish Godman.
Only the parcel sent to Godman arrived at her office but did not explode with the other two being intercepted by mail workers, British media reported.
European soccer's governing body UEFA opened a case against Rangers this month for discriminatory sectarian chanting by the club's fans.
Northern Ireland has recently witnessed an upsurge of shootings and bombings targeting police by nationalist groups that splintered off from the Irish Republican Army (IRA) when it abandoned its armed struggle to unite the British-controlled province with the Republic of Ireland.