Reader Sreekanth Nandagiri sent us this picture from the USA.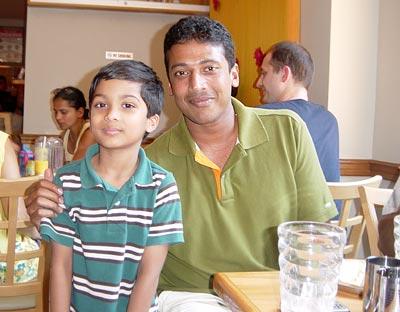 'I am Sreekanth Nandagiri from Raleigh, USA, regular reader of rediff.com. Recently we visited New York City and saw Mahesh Bhupathi at Saravana Bhavan on Lexingtom Avenue (Manhattan). on July 19, 2008,' writes Sreekanth.
'Mahesh was with his friends for lunch and was very friendly; He gave his autograph and we took his picture along with our son, Vibhav Nandagiri, who has just started playing tennis. Vibhav and we were excited to meet a great tennis star!'
Thank you, Sreekanth, for sharing this picture!
If you encounter your favourite cricket/sports personalities, send us the photograph or video on sportsdesk@rediff.co.in We will feature the best images right here on Rediff Sports or Rediff Cricket.