We recently launched a new feature where we post images of world sportsmen contributed by you Dear Readers.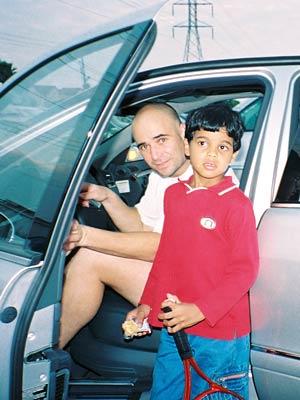 If you encounter/meet/see cricketers or sports personalities and photograph them, please scan the photographs and mail the pictures to us. We will feature the best images right here on Cricket or Rediff Sports.
Reader Sunny Koka sent us this picture from Texas, USA.
'Here is a picture of Andre Agassi with my son Adarsh Koka,' writes Vikas.
'It was the 2003 Tennis Masters Cup at the Westside Tennis Club in Houston. The Top 8 men's singles players in the world were playing. The fans thronged players like Agassi, Federer, Roddick and Coria.
At the end of the day, my 6-year-old son and I were waiting for our shuttle. Suddenly we saw Agassi being dropped off in the parking lot next to us. I walked up to Agassi and asked "Andre, can I get a picture with my son ?" Agassi nodded his head and as he got into his car, Adarsh ran upto him. It was pretty windy. Agassi was nice enough to hold the car door so that it wouldn't hurt Adarsh.
My son became an instant celebrity after that in the shuttle. No one else had even got an autograph or a picture with Agassi on that day. I always used to think that Agassi was a brash, flashy person but his smile and pleasant demeanour made me an instant fan.
Adarsh is now 9 years old and is becoming a promising junior tennis player. He was recently ranked # 1 in Texas in the United States Tennis Association July 2006 rankings for the Boys 12 ZAT division.'
So rush those photographs to us!