India's Jeevan Nedunchezhiyan, seeded six, will meet Croatia's unseeded Mate Pavic in the final of the USD 15,000 CCI-ITF men's Futures Tennis Tournament on Saturday after the two left handers scored contrasting semi-final victories.
Jeevan, 24, who came into the tournament ranked 400th in the world and soon after becoming the national men's singles champion, outlasted compatriot Purav Raja in straight sets 6-3, 6-4 in 90 minutes at the Cricket Club of India.
Six-foot tall Pavic, 19, who had won the junior boys' doubles title at Wimbledon last year with George Morgan of England, shocked fourth seed Liang-Chi Huang of Chinese Taipei in three sets after a two-hour battle to reach the title round. The Croatian won 1-6, 6-4, 6-2.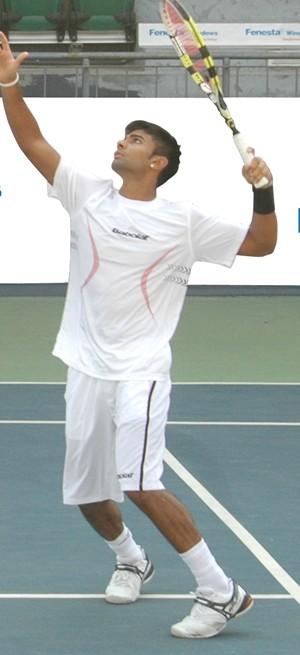 "This is my best show in the circuit after my second round appearances in ATP Tour events in Umag (Croatia Open) and in The Netherlands (Unicef Open)," said the 464-ranked player from Split who practises in Austria and idolises ex-Wimbledon men's singles winner and countryman Goran Ivanisevic. 
Pavic, given a wild card in his home country's ATP event in July last, went on to shock sixth seeded Spaniard Juan Carlos Ferrero, the 2010 champion, in round one before exiting, losing to Russian Andrey Kuznetsov in round two. 
Another wild card entry saw him shock fourth seed Robin Haase of the host country in the Unicef Open a month earlier.
"I have achieved what I had set out to do this year. I will play in Pune (another USD 15,000 event) next week before either going to Japan for the Challenger there or to Indonesia for a couple of more Futures," said the big-serving 6'3'' player who showed the exit door to top seeded Indian Davis Cupper Vishnu Vardhan two days ago.
Jeevan, on the other hand, had to face an opponent who was a tired man after having reached the doubles final with compatriot Saket Myneni.
One break of serve in each set, the sixth game of the first and third game of the second, was enough for Jeevan, who has returned to India after studying for four years in a US university where his game improved, to clinch the issue. 
"Yesterday (against Christopher Rungkat, no. 2 seed from Indonesia) it was a physical battle. Today it was a mental battle as Purav is a very smart player who can find out fast where he can trouble you," said Jeevan, sitting courtside applying a pack of ice on the right side of his stomach which he had torn a few months ago. 
"I could see he was tired in his serves. He could not put many first serves in which gave me an opportunity. He is one of the best doubles players in the country and came up with some amazing half volley drop shots," said Jeevan, who has grown up with top Indian singles player Somdev Dev Varman as a junior in Chennai. 
This is Jeevan's fourth appearance in the Futures final. He has won three Futures titles in his fledging career -- at Pune, Kolkata and Madurai. 
The winner of the singles title will take home USD 1950 and 27 ATP points while the loser will get USD 1350 and 15 ATP points. 
Raja, however, made amends later as he teamed up with Saket Maineni to get the better of fellow-Indian pair of N Sriram Balaji and Arun Prakash Rajagopalan in three sets to lift the doubles title. 
Mumbai-based Raja and his partner from Hyderabad, who had got past Kaza Vinayak Sharma and Arjun Kadhe on Thursday in the semi-finals, defeated the Balaji-Rajagopalan pair 6-0, 4-6, 10-8 in an hour and 20 minutes in the title clash.
The losers were, in fact, leading with a break of serve in their hand before Raja and Maineni fought back and wrested the initiative.