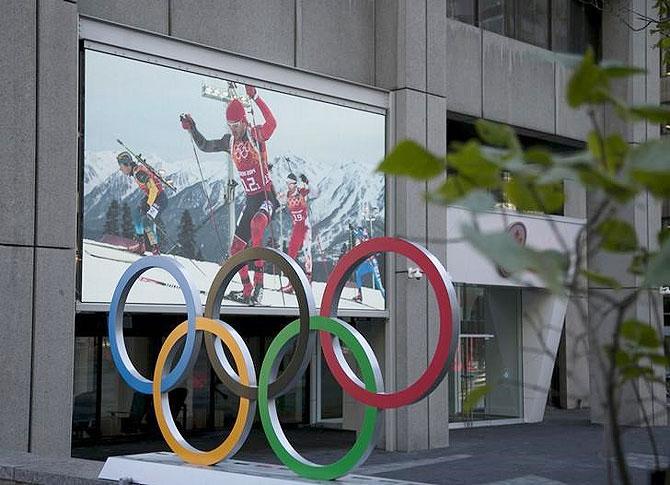 IMAGE: The Olympic rings seen displayed outside the headquarters for the Canadian Olympic Committee (COC) in Montreal. Christinne Muschi/Reuters
The Canadian Olympic Committee apologised to its employees on Wednesday and unveiled sweeping changes to workplace policies in the wake of a sexual harassment scandal that forced former president Marcel Aubut to resign.
The COC's board of directors also agreed to implement all the recommendations made in a "tough" third-party workplace review of its handling of the Aubut affair that identified gaps in the area of human resources systems and processes.
"It is clear from the report summary that the board and the senior leadership team could have done more. And for that, I apologise," COC President Tricia Smith said on a conference call.
"We all own this and we are truly sorry. We failed our employees.
Aubut, 68, resigned last October amid allegations that he sexually harassed a female colleague. A week later, two other women come forward with allegations.
The COC is one of the most powerful sports organizations in Canada and has influence over many Olympians, their coaches and national sport federations.
Smith, a former Olympic rower, said over 100 confidential interviews with COC staff, former staff and other individuals were conducted over a three-month period as part of the review.
The report stated that there was a lack of clarity around the role and authority of the board versus the role and authority of the former president.
"This enabled the former president to exercise significant control, resulting in a culture where people did not have confidence in their ability to act in a way that could affect change," said Smith.
"Importantly, there was no effective mechanism for individuals to raise issues of concern, except through a formal complaint."
The review's recommendations include mandatory training to ensure all staff and board members understand what harassment is as well as means by which individuals can lodge anonymous complaints.
Smith, who said the complainant fully supports the report's recommendations and will return to work, also said the board agreed to hire a senior-level and designated human resources executive to help ensure a safe and healthy environment.
"I can tell you this will not be business as usual. We will be holding everyone's feet to the fire." said Smith.
"We will do that by ensuring everyone is 100 percent committed to this new culture and accountable to the new policies and there will be ways to tell us if we are not meeting that standard."