'The top guys are top guys because they do things a little bit better than the other guys'
'Whether it's problem solving, whether it's lack of matches for a while, dealing with distractions off the court – these guys are used to it'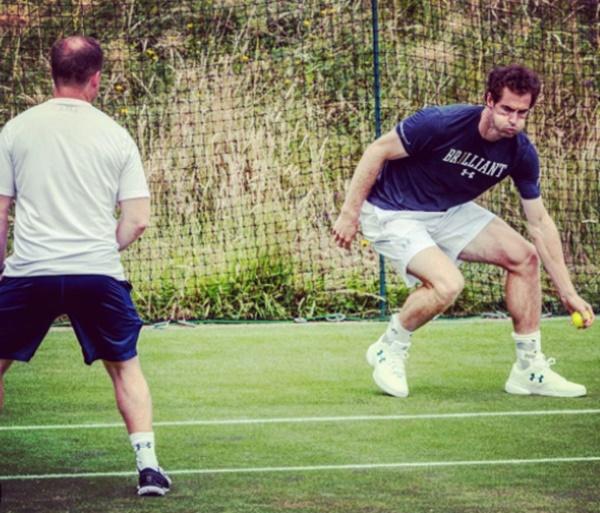 IMAGE: Andy Murray during training session. Photograph: Wimbledon/Instagram
Eight-time Grand Slam champion Ivan Lendl says it is the ability to deal with distractions and overcome obstacles such as a lack of playing time that sets the top players in the world apart from the rest.
Lendl, who coaches world number one Andy Murray, said that the Briton, Roger Federer, Rafael Nadal and Novak Djokovic have been able to stay at the top of men's tennis due to their mental strength.
"The top guys are top guys because they do things a little bit better than the other guys," Lendl told British media.
"Whether it's problem solving, whether it's lack of matches for a while, dealing with distractions off the court – these guys are used to it ...
"Yes, they can get upset, or the others can upset them, but if they play 100 times they are going to win more than half.
"They are better in stroke production, movement, physically. You put all that into a package and the package is slightly better than the guys below."
Lendl also said Murray, who is on the mend from a hip injury and just scraped past Italian Fabio Fognini in the third round at Wimbledon, had the character to dig deep when things were not going according to plan.
"That's how people win tournaments – they fight. It doesn't come easy. You don't always play your best and you have to get through that and fighting is part of it," Lendl said.
"When you play, sometimes you feel tired and you have to push through that pain barrier as well. Rhythm was very difficult last week, especially with the first two guys...
"But Andy is hitting it better and cleaner every practice now and getting his timing and rhythm back. He's in the second week so he is in with a chance."
Murray faces Benoit Paire in the fourth round later on Monday, with Federer playing Grigor Dimitrov, Nadal up against Gilles Muller and Djokovic taking on Adrian Mannarino.