- Right now, if I have to go by what's happening right now you would say Justin is going to win: Maurice Greene
- 'But the biggest problem is you never know what Usain is going to come out with because, you have to remember, he's been where nobody has been before.'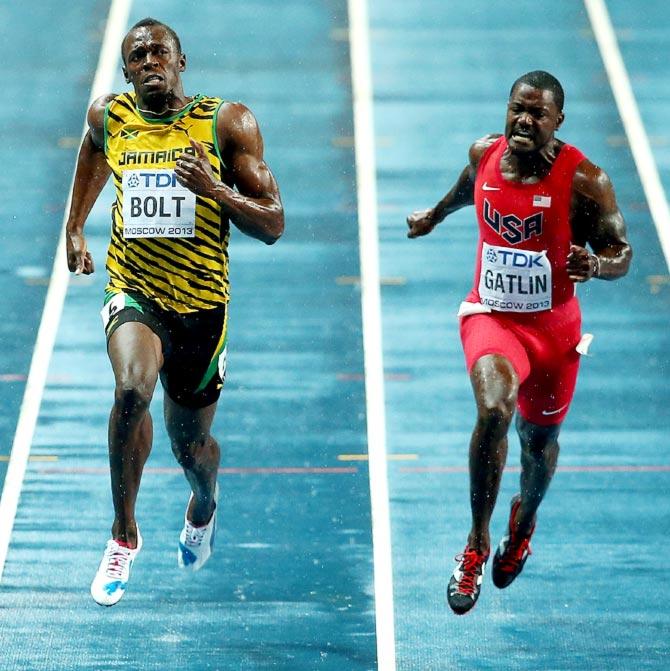 IMAGE: Usain Bolt (left) crosses the line to win gold ahead of Justin Gatlin in the men's 100 metres final at the 14th IAAF World Athletics Championships 2013 in Moscow. Photograph: Julian Finney/Getty Images
In-form American Justin Gatlin should beat Usain Bolt to win both the sprints at the World Athletics Championships but it would be foolhardy to write off the Jamaican, three-times world 100 metres World champion Maurice Greene said on Friday.

Bolt has dominated the 100m and 200m at major championships since winning both in World record times at the 2008 Beijing Olympics, only a false start in the short sprint final at the 2011 World championships preventing him from a clean sweep.
- The 100m runs from 9.9s to 9.58!

Joint problems have hampered the 29-year-old's season, however, and he returns to the Bird's Nest stadium in Beijing for the 100m heats on Saturday with best times of 9.87 and 20.13 seconds for each sprint.

Gatlin, although he has yet to go head-to-head with Bolt this year and has beaten the Jamaican only once in seven attempts over the 100m, has not been beaten in either sprint for two years.

The 33-year-old owns the best times of the year in both events with a personal best of 9.74 in 100m and 19.57 in the 200m.

"Right now, if I have to go by what's happening right now you would say Justin is going to win," Greene said.

"But the biggest problem is you never know what Usain is going to come out with because, you have to remember, he's been where nobody has been before.

"So who knows if he's going to come back with something like that? It's very well possible so you can never count him out.

"Bolt don't ever run a lot. It doesn't matter if he's run four races or 12 races, you're gonna get a race."

SUNDAY INDICATOR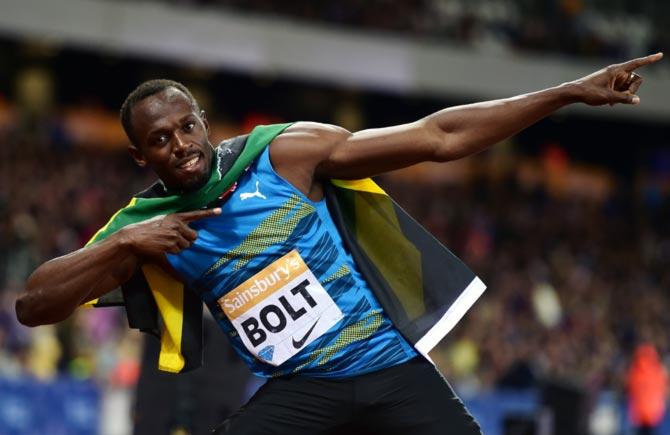 IMAGE: Usain Bolt celebrates after winning a race. Photograph: Jamie McDonald/Getty Images
The Beijing sprint showdowns between Bolt, who has never failed a drugs test, and Gatlin, who has served two suspensions for using banned substances, have been billed as battles for the soul of the sport.

The last two rounds of the 100m both take place on Sunday evening and Greene said the semi-finals would be a good guide to what would happen later in the evening.

"The semis is going to really tell a lot," he said. "It's going to show you if Bolt is really ready and then you'll be able to make your decision for the final."

The 200 metres final takes place next Thursday and Greene feels his compatriot has an even better chance of becoming the first major championship gold medallist apart from Bolt since Tyson Gay won the 2007 world title in Osaka.

"I got to see the 100 first but in the 200, I would be more inclined to pick Justin," he said.

"Just because it's a harder race and you've got to be really fit and we know how fit Justin has been.

"So that will be easier to pick but you never know what Usain's going to come back with."

Bolt has, of course, run much faster than Gatlin's season-leading marks and holds the world record for both events with the 9.58 and 19.19 he ran to win gold at the Berlin World championships in 2009.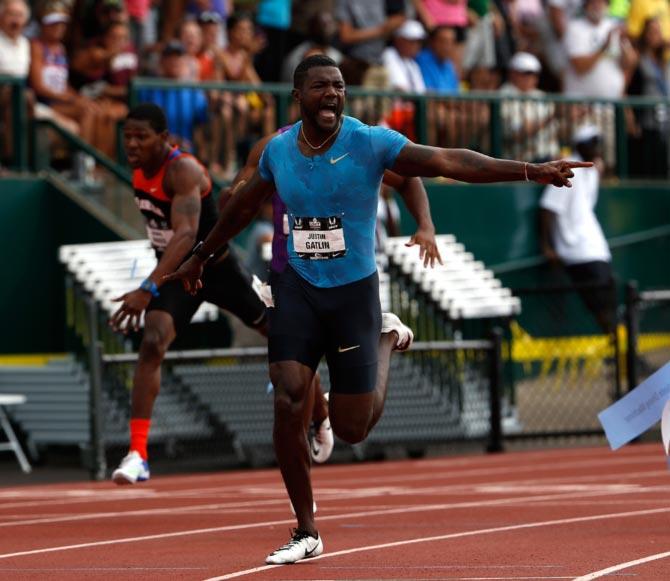 IMAGE: Justin Gatlin is jubilant after winning the 200m final at the 2015 USA Outdoor Track & Field Championships. Photograph: Christian Petersen/Getty Images
The Jamaican knows he is not in the kind of shape to run those sort of times in Beijing but said on Thursday that Gatlin would have to run the fastest race of his life to take his 100m title.

"I used to say when I was running 'I'm gonna go some place you can't'," Greene, a former 100m world record holder, added.

"That's just what Usain is saying, he knows he can run 9.6, he's done it before and if you can't go there, you don't have a shot.

"But let's just see if he can go there also."