Jamaica's twice Olympic 200 metres champion Veronica Campbell-Brown was suspended by her national federation on Tuesday following a positive test for a banned diuretic at a meeting last month.
- Jamaica's Campbell-Brown fails dope test - sources
"The Jamaican Athletics Administrative Association (JAAA) can now confirm that a case concerning Mrs Veronica Campbell-Brown is currently ongoing," the Jamaican governing body said in a statement.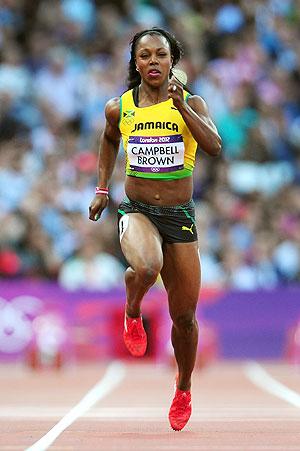 "She has been provisionally suspended from competition awaiting the outcome of a disciplinary panel that will be empanelled to hear this case."
The JAAA said the Caribbean island's most successful female athlete had voluntarily withdrawn from competition and accepted the provisional suspension.
"There are two things that are unmistakable about Veronica Campbell-Brown," her manager Claude Bryan said in a statement.
"On one hand she has had good success on the track and on the other she has always stood for and carried herself with dignity."
Bryan said that being accused of infringing anti-doping rules was a shock to Campbell-Brown.
"Veronica is not a cheat, she has via hard work and dedication accomplished a record on the track which is absolutely remarkable," he said.
"Her faith which rests not in device or creed will see her through this dark period." the 31-year-old Campbell-Brown, who was the first Jamaican athlete, male or female, to win a global 100 metres title, tested positive for a diuretic which can be used to mask the use of performance-enhancing drugs, at the International Invitational World Challenge on May 4.
The JAAA had not previously identified Campbell-Brown but said it would empanel a disciplinary team to carry out a hearing as soon as it received notification of the B sample.
Sources close to Jamaican athletics told Reuters that the banned drug was contained in a cream which Campbell-Brown was using to treat a leg injury and which she had declared on her doping control form.
They said an important factor was whether or not the banned drug appeared on the label of the cream. The World Anti-Doping Agency has a strict liability policy under which athletes are held responsible for any drug found in their body.
The 200 metres world champion has yet to comment but her high school mentor Neville Myton told Television Jamaica on Saturday that she would speak soon about the doping violation.
Photograph: Stu Forster/Getty Images