The Bundesliga was hit by another ball-over-the-line controversy on Saturday after Nuremberg were disallowed a goal in their 3-1 defeat at Borussia Moenchengladbach.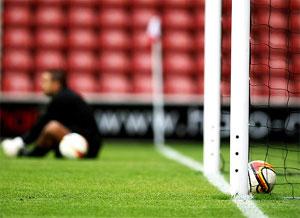 Bottom-of-the-table Nuremberg, the only Bundesliga team without a win this season, were trailing 2-1 when a shot by striker Josip Drmic hit the underside of the crossbar and bounced down on to the line and out of the goal.
The referee waved play on and even slow-motion replays were inconclusive as to whether the ball had fully crossed the line or not.
Last month, Bayer Leverkusen won 2-1 at Hoffenheim thanks to a "phantom goal" which was awarded after Stefan Kiessling's header clearly went into the side-netting.
Television replays showed Kiessling's effort missed the target and entered the net through a hole in the side. FIFA said the goal-line technology would have correctly indicated that it was not a goal.
Nuremberg were on the other end of a similar incident on the opening day of the season against Hoffenheim.
Hoffenheim looked to have scored and taken a 2-0 lead when Kevin Volland skillfully chipped the ball over goalkeeper Raphael Schaefer and into the goal.
Replays showed that the ball landed well behind the goal-line before bouncing back out and into play, Nuremberg players turned away in disappointment and Volland was on his way to celebrate when referee Thorsten Kinhoefer waved play on.
Germany has ruled out adopting any goal-line technology until at least 2015. It has also rejected the additional assistant referees who are placed on each goal line in European competitions and Italy's Serie A.