India's top-ranked female player Dipika Pallikal put up a spirited display before going down 1-3 to second seed Laura Massaro of England in the pre-quarter-finals of the Allam British Open Squash Championships, in Hull, England.
Following the Chennai girl's defeat, the Indian challenge came to an end in the women's event of the World Platinum Series, currently underway at the KC Stadium.
The Indian men's challenge ended on Wednesday with the defeat of Saurav Ghosal, who lost his pre-quarter-final to France's Gaultier 8-11, 13-11, 7-11, 0-11.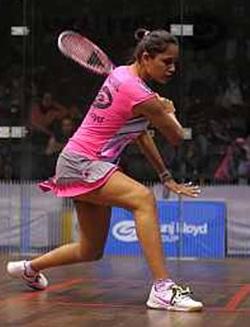 The match between 15th seed Pallikal and Massaro was keenly contested, the Indian starting well and attacking quickly in the cool conditions, and her opponent struggling to retrieve.
The Englishwoman was able to move her opponent off the tee more in the second game and claimed a narrow tie-break game to draw level, before taking an equally close third.
The home hopeful had more breathing room in the fourth game as Pallikal's error count rose, and she sped to match point with a comfortable cushion.
Pallikal took a nasty slip in the final rally, colliding head-first with the side-wall before Massaro sealed the issue in 45 minutes.
"It's such tough conditions on there I just had to concentrate on each point," said Massaro.
"It might have seemed a bit excessive but I needed to keep on geeing myself up and that was the only way to do it," she added.
Massaro will face 14th seed Egyptian Omneya Abdel Kawy in Saturday's quarter-finals.
Image: Deepika Pallikal