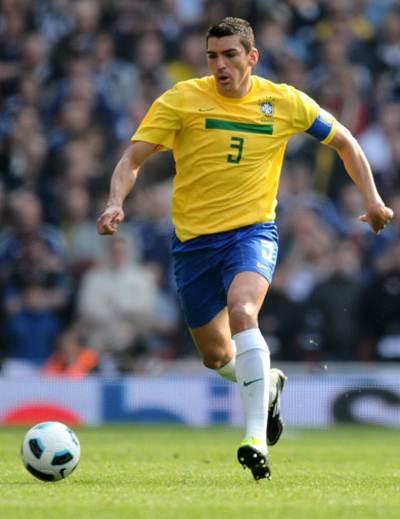 Lucimar Ferreira da Silva, popularly known as Lucio, has signed up with FC Goa as a marquee player for the second season of the Indian Super League.
"Lucio, who won the World Cup for Brazil in 2002 and was part of 2006 and 2010 finals, has been signed for FC Goa as he was strongly recommended by Zico," stated FC Goa co-owner Shrinivas Dempo.
"We have also signed another Brazilian, Andreas, and are looking forward for more signings that will boost the squad," said Dempo.
The Brazilian defender started his football career in Brazil with Internacional before heading towards Germany, where he played for Bayern Leverkusen and Bayern Munich and won three Bundesliga titles.
He also played for Inter Milan, where he won Champions League and FIFA Club World Cup in addition to the domestic titles and later had a brief stint at Juventus before heading back to Brazil.
He last played for Palmeiras this year.
Anelka retained as Mumbai City FC's marquee player
Mumbai City FC, meanwhile, announced the resigning of Nicolas Anelka as their marquee player.
The prolific French striker was officially the league's fifth best player at the end of the inaugural season, in which he scored twice and provided two assists.
With this signing, Anelka will yet again bring his experience to Mumbai City FC.
His illustrious career is packed with 69 international matches and nearly 500 club appearances at the top level.
Commenting on retaining Anelka, team owner Ranbir Kapoor said, "I am really happy to have Nicolas back for Mumbai City FC. The fact is, that he played really well for us last year, and while the plan this year is to build a smart and strong squad, it is important to retain some continuity from last
season, and Nicolas plays a major role in that plan."
On returning to Mumbai City FC, Anelka said, "I am glad to be back in Mumbai City FC again. I really enjoyed my time there last season and I can't wait to see Mumbai, India, and all you fans again. See you very soon. Let's football!"
The former French international has honed his skills with top clubs including Arsenal, Chelsea, Manchester City, Real Madrid, Liverpool and Juventus among others. He is among France's most talented players to grace Indian soil during the ISL.
He has vast experience playing international matches, winning with France at Euro 2000, and won the Confederations Cup the following year.
Showing great potential for scoring goals, the 6ft 1in player made his debut as a 16-year-old at Paris Saint Germain in February 1996. Soon, he moved to Arsenal under newly-appointed manager Arsène Wenger and won the PFA Young Player of the Year Award the following season after he was Arsenal's top scorer in the 1998–99 season with 17 Premier League goals.
His first team opportunities were limited in the 1996–97 season but in the 1997–98 season, he broke into the first team, after a long-term injury to striker Ian Wright.
In November 1997, Anelka scored his first goal for Arsenal in a 3–2 home win against Manchester United. Anelka was a key player in Arsenal's Double win of both the Premier League and FA Cup that season. He scored the second goal in Arsenal's 2–0 win over Newcastle United in that season's FA Cup final.
In all, he made 90 appearances for Arsenal, scoring 28 goals.
Image: Lucimar Ferreira da Silva
Photograph: Getty Images