Besides fighting Manny Pacquiao, British boxer Amir Khan wants to channel boxing talent in India and Pakistan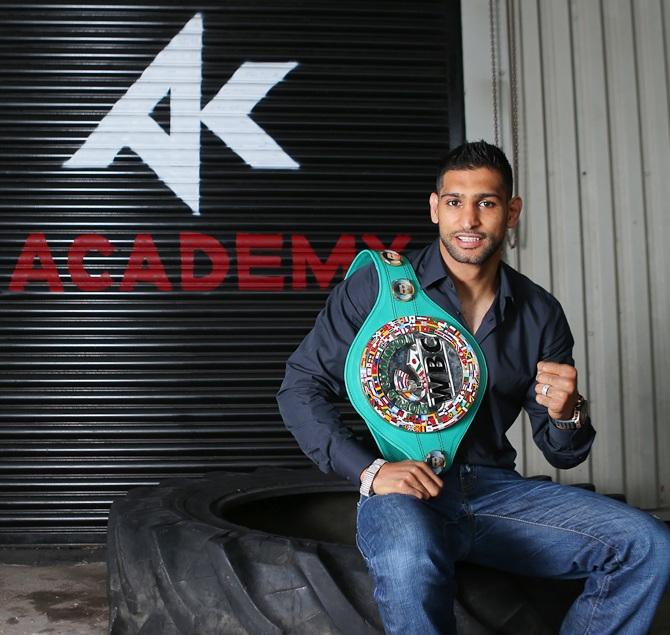 IMAGE: Boxer Amir Khan poses for photographers during a media day. Photograph: Dave Thompson/Getty Images
There is a protracted pause before Amir Khan clears his throat and begins talking about Floyd Mayweather, Jr. The mention of Mayweather evokes a sense of disappointment. "He was scared of me, wasn't he?" he says, his face encapsulated in a gentle smirk. "We were this close to finalising the fight," says Khan, his index finger and thumb conjoined to illustrate how close it actually was. "But his team backed out at the last moment. They knew that I would beat him. It was so disappointing."
In September, Mayweather ended his glorious career with a fight against fellow American Andre Berto — a bout that Khan so desperately craved. In a dreary 12 rounds of battle at Las Vegas' MGM Grand that night, Mayweather won by unanimous decision, equalling Rocky Marciano's record of 49-0 in the process. Gliding around the ring under the glistening lights with the dexterity of a ballet dancer, Mayweather proved to be elusive to Berto all evening, exquisitely ducking under a barrage of fast jabs time and again. In between, he landed a couple of formidable uppercuts of his own, often surprising Berto with his speed. It was the kind of defensive masterclass that made Mayweather the greatest pound-for-pound boxer this world has ever seen.
Khan, however, feels that had he been in the ring, the outcome would have been vastly different. "I could have knocked him out. It was such a shame that I didn't get the opportunity," he says. But the sneering gives way to a sense of respect the moment the discussion shifts to Manny Pacquiao. Khan has long been in the running to land a fight with his Filipino idol, which would be the swan song to Pacquiao's career. Reports in the British media this week suggested that a deal for an April 2016 fight had already been done, only for Pacquiao's promoter, Bob Arum, to come out and rubbish such claims. Yet, Khan remains hopeful of a fight in the first half of next year. Terence Crawford, the undefeated WBO junior-welterweight champion, is the other man in the fray.
Dressed in a navy blue T-shirt and faded jeans, seated cross-legged on a giant sofa in the lobby of New Delhi's Leela Palace hotel, Khan says that it will be an honour to be in the same ring as the ten-time world champion. "He is a great fighter. This could be one of the highlights of my career," he adds. Incidentally, the two trained together under Pacquiao's trainer, Freddie Roach, at his Wild Card gym in West Hollywood last year. "I had the better of him in training. So let's see," laughs the 28-year-old.
Khan hasn't fought since beating Chris Algieri in a frenetic bout at New York's Barclays Centre back in May. It was a fight that threatened to explode every couple of rounds but could never go beyond the sporadic spark. Yet, it was brutal and bruising. And, Khan, being the better conditioned of the two, kept throwing heavy punches right till the end, eventually outlasting his American opponent.
Khan will have to call upon a similar kind of moxie when he goes up against Pacquiao. At 36, the Pac-Man may not be the boxer he once was, but Khan says that he still poses a more than formidable challenge. Ask him whether Pacquiao is past his prime and Khan's reply is a terse "no". Pacquiao, though, has looked a pale shadow of his former self ever since being battered by the Mexican, Juan Manuel Marquez, in a colossal fight three years ago. But Khan maintains that Pacquiao will be the toughest opponent that he has ever faced. "He has something very special. In spite of being eight years younger than him, it will not be easy to beat him," he says.
When he was eight years old, Khan's father took his hyperactive son to a boxing gym for the first time. Khan recalls how the smell of blood and sweat, rather bizarrely, immediately made him feel at ease. "The moment I entered that place, I knew I belonged there," he remembers. Against Pacquiao, that same blood and sweat will have to come to the fore.
In a sport where mouthing opponents is almost obligatory, I find Khan's veneration for Pacquiao a little astonishing. If the fight does indeed take place, it would be ludicrous to expect Khan to exhibit the kind of buffoonery that often marks such tempestuous occasions.
He talks about most things in a measured manner. A smile is fixed on his face as he effortlessly lets his genial personality take over. He barely flinches when I mention Kell Brook — the British welterweight who so desperately wants a showdown with Khan — or Danny Garcia, the man, who in 2012, hit him with such sickening blows that Khan struggled to stay on his feet after the third round. "I will put Brook in his place. But let him fight some proper opponents first," he says with a straight face.
Khan is in Delhi to scout locations for his boxing academy that he plans to open here in collaboration with Super Fight League, a promotion company founded by Sanjay Dutt and Raj Kundra in 2012. In a country that has enormous boxing potential, Khan feels that all young boxers need is a platform. "We've seen it at the Olympics. India has done so well in boxing. It's time to take that a step further." Khan and his team have set their eyes on a 10-year target to help India produce more world-class boxers.
Bill Dosanjh, co-owner of Super Fight League, who is seated beside him, says that more Indian boxers should go the Vijender Singh way — who recently turned professional and won his first fight against Sonny Whiting in Manchester last month. "Singh should have gone professional maybe 10 years ago. But the system here didn't allow him that," says Dosanjh. "We will help young boxers achieve that dream."
However, Khan admits that this isn't the easiest transition to make. Amateur boxing and professional boxing, he concedes, are two different sports. "The intensity of training, preparation for a fight are just of a different level in professional boxing."
In between, Khan tells me stories about his friendship with Mike Tyson and his admiration for Muhammad Ali. "Ali was my hero growing up. He was the best I've ever seen," he says, taking a respite from twiddling his thumbs on his phone. "He was technically brilliant. People like George Foreman and Joe Frazier weren't the greatest to watch but Ali was magic."
Khan has also set his eyes on opening five boxing academies in Pakistan, a place where he gives stiff competition to the country's revered cricketers in terms of popularity. "I can't roam around in public there. People just keep asking for pictures and autographs," he says with a broad grin. In terms of boxing, he says that Pakistan has huge potential. "It's not as good as India yet. But if we put in some work in the coaching and infrastructure, Pakistan can be a real force."
Even if the Pacquiao fight falls through, the rise of a boy of Pakistani-origin from a humble neighbourhood in Bolton to one of the finest boxers in the world is a story in itself. He already has two world titles, an Olympic medal and 31 professional wins under his belt. And, he is just 28. What a prospect.