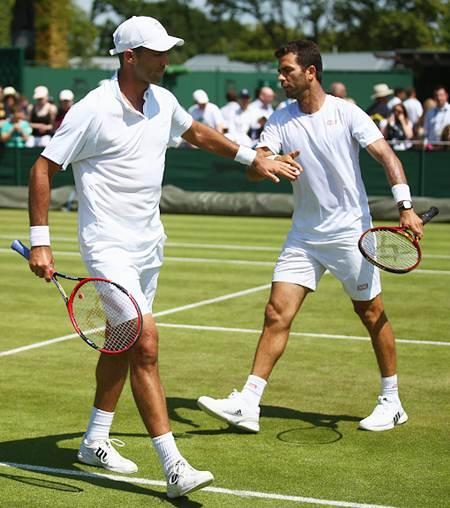 Horia Tecau of Romania (left) and Jean-Julien Rojer of the Netherlands. Photograph: Ian Walton/Reuters
Rohan Bopanna's bid to enter his maiden Wimbledon doubles final came to a disappointing end as he, along with his Romanian partner Florin Mergea, lost a marathon five-setter against fourth seeded Dutch-Romanian pair of Jean Julien-Rojer and Horia Tecau.
Julien-Rojer and Tecau won 4-6, 6-2, 6-3, 4-6, 13-11 in a contest that went on for three hours and 23 minutes.
For Bopanna, it was yet again a case of being so near yet so far after he lost another marathon five-setter semi-final back in 2013. Ironically, his partner was Julien-Rojer, who ended up on the winning side on the day.
The final set turned out to be a battle of patience for both pairs as they held their respective services for 23 games. It was in the 24th game of the fifth set that the Indo-Romanian pair was broken and the match ended there itself.
The match started with Bopanna being broken in the very first game but Mergea's good returns saw them break back. The pair also broke Tecau to take the first set at 6-4.
In the second set, it was the turn of the Dutch-Romanian pair to get a double break and win the set easily by 6-2 margin. The third set went nearly on similar lines as Bopanna-Mergea were broken once and lost the set at 3-6.
Down 1-2, the Indo-Romanian pair came back strongly in the fourth set winning the coveted break and taking it at 6-4.
However Bopanna despite his booming serves was not in his element as he made too many unforced errors both at the net
and from the baseline. In all the pair committed 12 double faults including five in the fifth and final set itself.