Usain Bolt, already enshrined as one of the greatest Olympians of all time, became the most successful athlete in world championship history when he anchored Jamaica to victory in the 4x100 metres relay on Sunday.
Bolt followed up the 100 and 200m double with his third gold in the final event, taking his all-time tally to eight. That matches American trio Carl Lewis, Michael Johnson and Allyson Felix but the Jamaican moved ahead by virtue of his two silvers from 2007.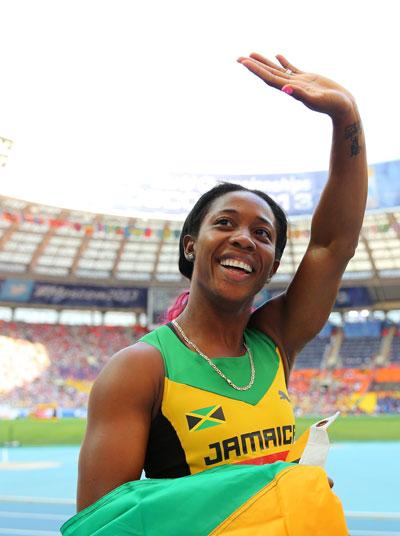 Shelly-Ann Fraser-Pryce also completed the hat-trick as Jamaica won the women's 4x100 relay in the second-fastest time ever, giving them all six sprint golds in Moscow to bring a smile back to the Caribbean island following the doping cloud surrounding the build-up to Moscow.
Traditionally athletics programmes ended with the 4x400m relay but such is Bolt's worldwide selling power that recent events have been rejigged to ensure the Jamaican gets top billing.
Jamaica were pipped by Britain in the heats but the favourites drafted in Bolt and Nickel Ashmeade, while the U.S., unusually, used the same four in their evening heat as in the final.
Initially it seemed to be working in the Americans' favour as they led approaching the final bend but Rakieem Salaam's handover to Justin Gatlin left the individual 100m runner-up off balance. He clearly strayed into the Jamaicans' lead outside him but somehow escaped disqualification.
It made no difference to Bolt, who streaked clear to complete victory in 37.36 seconds, the sixth-fastest ever, with the U.S. in 37.66
Britain, another nation with a painful history of relay foul ups, crossed the line third but were disqualified for a late changeover. That promoted Canada on to the podium and somewhat made amends for the 2012 Olympics when they were disqualified after finishing third.
Bolt delighted the crowed with a celebratory Cossack dance, not easy for someone 6ft 5ins (1.95 metres) tall, before parading round the track with his three medals on show for 50,000 flashing cameras.
America's women also got it horribly wrong, although they managed a super-human recovery to claim bronze.
English Gardner had come to a complete standstill by the time she finally collected the baton for the third leg but a brilliant bend and an astounding last leg by Octavious Freeman took the U.S. through half the field for bronze behind France.
By then Jamaica's quartet of Carrie Russell, Kerron Stewart, Schillonie Calvert and Fraser-Pryce were celebrating their win in 41.29, second only to America's 40.82 set at last year's Olympics and inside the drug-fuelled 41.37 of East Germany that stood for 27 years.
Image: Shelly-Ann Fraser-Pryce of Jamaica celebrates winning gold the Women's 4x100 metres final during Day Nine of the 14th IAAF World Athletics Championships at Luzhniki Stadium in Moscow.
Photo: Mark Kolbe/Getty Images