Jamaican world champion Yohan Blake missed the fastest 100 metres of the year by the blink of an eye on Wednesday, his 9.84 seconds a mere 0.02 behind world record holder and training partner Usain Bolt's mark.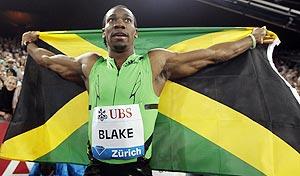 Countryman Michael Frater was a distant second in 10.05 while Trinidad and Tobago's Keston Bledman took third in 10.06 at the Cayman Invitational in George Town, Cayman Islands. Bolt set the year's fastest time at the weekend in Kingston.
US world champion Carmelita Jeter was an easy winner in the women's 100, clocking 11.04, while Canadian world silver medallist Dylan Armstrong heaved the shot 21.15m and American Ginnie Crawford topped the women's 100 hurdles in 12.66.