ISSF WC: Manu-Saurabh win 10m air pistol mixed team silver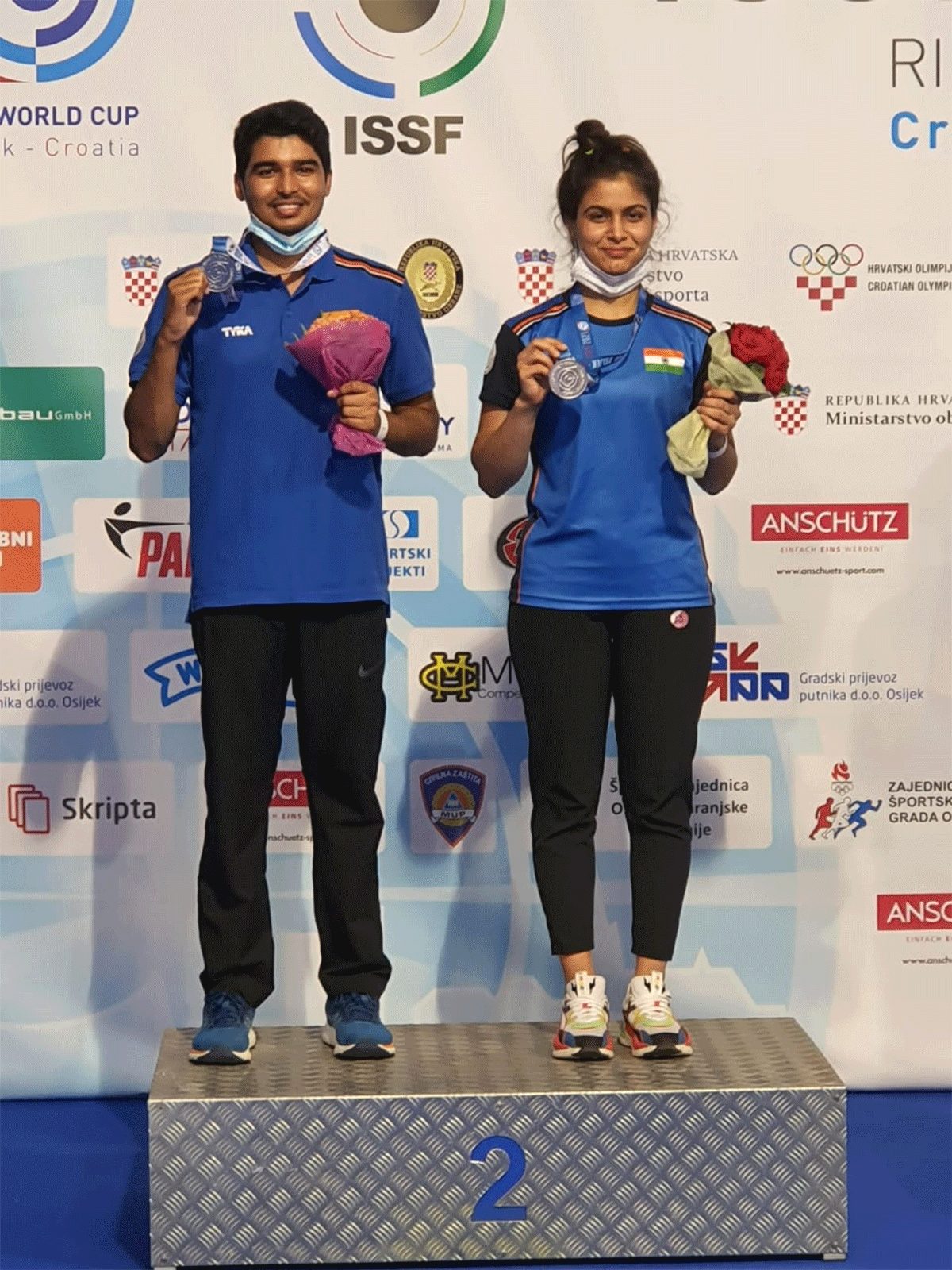 Continuing their impressive run, the Indian duo of Saurabh Chaudhary and Manu Bhaker clinched the silver medal in the 10m air pistol mixed team event at the ISSF Shooting World Cup in Osijek, Croatia, on Saturday.
Having won five golds in the previous editions, it was the duo's sixth 10m air pistol mixed World Cup medal on the trot.
The Indian duo fought hard, clawing back from 6-12 to level the match at 12-12, before losing the last two series to go down 12-16 to Russia's Vitalina Batsarashkina and Artem Chernousov.
Representing the other Indian team in the same event, Yashaswini Singh Deswal and Abhishek Verma missed out on a bronze medal.
Deswal and Verma, who qualified in the third place, were completely outplayed by Iran's Golnoush Sebghatollahi and Javad Foroughi, losing 7-17 in the bronze play-off.
Bhaker and Chaudhary had topped the field in the first qualifying round shooting 587 out of 600 after 60 shots (30 shots each team member) while Verma and Deswal shot a combined 577, to finish fourth out of 32 teams.
Verma and Deswal then came in a point behind their compatriots with 386 in the second qualifying round.
Rio Olympic silver medallist Batsarashkina and world championship gold medallist in the discipline Chernousov, had earlier topped the second qualification round.
It was a bad day in the office for the Indian rifle shooters, competing in the 10m air mixed event.
Both teams failed to reach the final. The pairing of Elavenil Valarivan and Divyansh Singh Panwar managed to reach the second qualification round, finishing sixth with a total of 416.1.
The duo of Anjum Moudgil and Deepak Kumar failed to clear the first qualifying round. They finished a disappointing 15th with a total 624.6.
Chaudhary and Bhaker's silver takes India's medal count to three. Both shooters have already won a bronze each.
While Chaudhary had picked a bronze medal in men's 10m air pistol on the opening day, Bhaker alongside Deswal and Rahi Sarnobat had won the bronze in the 10m air pistol women's team event.
Russia top the table currently with three gold medals for a total of seven medals.
The event is Indian shooting team's final competitive outing before the Tokyo Olympics.
Verma stuns American heavyweight Schaff for compound individual gold
Star compound archer Abhishek Verma stunned American heavyweight Kris Schaff in a shoot-off to bag a gold medal at the Archery World Cup Stage 3 in Paris on Saturday.
Verma's effort has come two months after he along with the Indian team was stopped from board the flight for the first stage of the meet in Guatemala City following their coach's false positive COVID-19 test report.
India archers are also in the fray for three more medals in the women's recurve individual, team and mixed pair events with world number three Deepika Kumari eyeing a hat-trick of titles.
In a nail-biting final, the duo dropped just two points each to be locked 148-all after the regulation five ends before a calm and composed Verma sealed the issue in the shoot off (10-9) with a perfect score.
"That's archery, it's all about hits and misses. My heart beat went up so I just calmed myself down and kept my focus on the next arrow," Verma, who last won an individual World Cup gold in Wroclaw 2015, said.
The 32-year-old Indian, who had qualified as 11th seed six places behind Schaff, had a dream start to the final hitting three Xs -- all perfect 10s closest to the centre.
Verma, who was playing his first International after about two years, continued his perfect run (90 out of 90) till the third end to lead by two points.
But the American fifth seed bounced back strongly in the fourth end with three perfect 10s including two Xs to put pressure on Verma who dropped his first point in the final arrow.
Having cut the deficit by one point going into the final end, Schaff mounted more pressure on Verma, drilling three perfect 10s.
Needing three perfect scores (30) to seal the issue, Verma shot 29, dropping one point in his second arrow as the match went into the shootoff.
Schaff failed to drill his arrow into the inner ring to start off with a 9 as Verma seized the moment with a 10 for his second World Cup individual gold.
Earlier, Verma defeated Anton Bulaev of Russia 146-138 to make his first World Cup final since Salt Lake City 2018 where he had finished with a silver.
Starting off with 29, the Indian trailed by one point after the second end with Bulaev shooting three perfect 10s.
But Verma bounced back strongly with another 29 in the third, before stepping up in the penultimate end with three perfect 10s.
Heading into the final end with a three-point lead, Verma finished it off in style with three 10s including one closest to the centre (X).
The Indian compound archers had last competed in the Asian Championships in Bangkok in November 2019 where the duo of Verma and Jyothi Surekha Vennam had upset Chinese Taipei to clinch a gold medal.
They were slated to play their first tournament since the pandemic struck in the first stage of the World Cup in Guatemala City.
The Patiala-based compound team were headed to New Delhi airport to join the recurve team headed for Guatemala City but the federation stopped them midway after learning that their coach had tested positive in the camp.
Incidentally, the coach had stayed back and all other archers tested negative before embarking their journey but the federation did not want to "take any risk" and barred them from travelling.
As it turned out later the coach had a "false positive" report but the damage had been done by then.
Neeraj third in Kuortane Games in strong field, Olympic favourite Vetter first
Star Indian javelin thrower Neeraj Chopra produced a much-improved show from his previous two outings as he finished third with an effort of 86.79m in Kuortane Games in Finland on Saturday.
Chopra began with 83.21m and then sent the iron spear to a distance of 86.79m in the his second attempt. All the remaining four throws were fouls.
Season-leader and 2017 world champion Germany's Johannes Vetter (SB: 96.29m) won the event with a best throw of 93.59m. The German is the gold medal favourite in the upcoming Tokyo Olympics.
Keshorn Walcott of Trinidad and Tobago, who won a gold in 2012 London Olympics and a bronze in 2016 Rio Games, finished second with a best throw of 89.12m.
Reigning world champion Anderson Peters of Grenada was fourth with a best throw of 83.46m.
This was Chopra's third best performance this season since re-writing his own national record during the Indian Grand Prix 3 with a throw of 88.07m in March at the NIS Patiala. A few days later, he had thrown 87.80m during the Federation Cup at the same venue.
In his previous two competitions in Europe, Chopra had come up with a best effort of 83.18m to win an event in Lisbon, Portugal on June 10 before having a below-par performance of 80.96m at the Karlstad Grand Prix in Sweden on June 22.
The 23-year-old reigning Asian and Commonwealth Games champion had qualified for Tokyo Olympics in January last year in South Africa.
Sreejesh, Deepika nominated for Khel Ratna
Veteran India goalkeeper PR Sreejesh and former women's team player Deepika were on Saturday nominated by Hockey India for this year's prestigious Rajiv Gandhi Khel Ratna Award.
Besides the duo, vice-captain of India's Tokyo Olympics-bound men's team Harmanpreet Singh and women's team members Vandana Katariya and Navjot Kaur were nominated for the Arjuna awards.
The national federation also nominated RP Singh and Ch Sanggai Ibemhal for the Dhyan Chand Award for Lifetime Achievement, while coaches BJ Kariappa and CR Kumar were recommended for the Dronacharya Award.
According to a statement issued by HI, the period of consideration for the Rajiv Gandhi Khel Ratna Award is between January 1, 2017 to December 31, 2020.
During that period, the 35-year-old Sreejesh, who will be playing in his third Olympics and probably last, has played a key role in India's silver medal win at the 2018 Hockey Champions Trophy in Breda, bronze medal at the 2018 Asian Games and gold at the 2019 FIH Men's Series Finals in Bhubaneswar.
Sreejesh has received the Arjuna award in 2015 and the prestigious Padma Shri recognition in 2017.
Deepika, on the other hand, was a vital part of the Indian women's hockey team, which won the silver medal at the 2018 Asian Games and at the 2018 Asian Champions Trophy.
Dragflick sensation Harmanpreet has over 100 international caps while Vandana has over 200 international caps. Navjot boasts of over 150 international appearences.
Speaking about the recommendations for the National Sports Awards, HI president Gyanendro Ningombam said, "It was a very proud moment for all of us when Rani won the Rajiv Gandhi Khel Ratna Award last year and it is with great pride that we are recommending two of the finest hockey players the country has seen -- PR Sreejesh and Deepika -- for the Rajiv Gandhi Khel Ratna Award this year.
"We are also happy to nominate Harmanpreet Singh, Vandana Katariya and Navjot Kaur for the Arjuna Awards. They have produced some exceptional performances for the Indian team in the last few years."
The National Sports Awards are given to the country's sportsperons by the President of India on the occasion of National Sports Day on August 29 every year to celebrate hockey legend Major Dhyan Chand's birthday.
All the prizes carry a trophy along with a citation and cash rewards.