After pairing up with different partners in the initial months of 2013, Mahesh Bhupathi and Rohan Bopanna have decided to rejoin forces for the rest of the season.
The partnership will commence with the Monte Carlo Masters, beginning April 14 and probably end when Bhupathi hangs up his boots at the end of the season.
Bhupathi and Bopanna, country's top doubles players ranked 10th and 12th respectively, had teamed up in the 2012 season aiming for an Olympic medal but split for the year 2013 as they looked for young partners.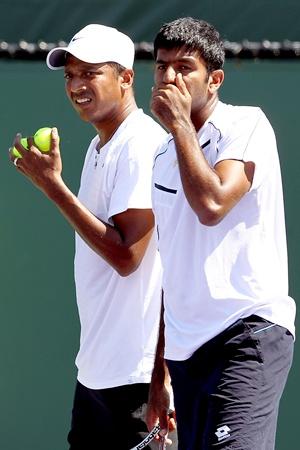 The decision was basically to help 33-year-old Bopanna get better results since Bhupathi's reflexes were slowing due to age factor. He is 38.
However, the two players made the surprising announcement on Monday as they have decided to play together for one last time.
Bhupathi had played with Canada's Daniel Nestor and Michael Llodra while Bopanna played with American Rajeev Ram and Briton Colin Fleming.
"We had a really good run last year, and had found a rhythm in our game while having a great time playing together.
We have a refined understanding of each other's games, and gel well on and off the court; all strong characteristics that I know will translate into a successful partnership for us on the tour," Bhupathi said.
Also as the country's top two doubles players, I don't think either of us could have asked for a more dependable partner," he added.
The duo believe that their experience of playing together on the tour during the 2012 season will hold them in good stead.
Speaking on the partnership, Bopanna said,"Playing with Mahesh has been a great learning experience for me, and we make a formidable doubles team. While we will work towards improving on last year's performances, we do make a solid team in the knowledge that we have each other's back throughout."
Both the players have won a title each with different partners. Bopanna had won the Marseilles Open with Fleming while Bhupathi won the Dubai Open, partnering Llodra.
Bhupathi has also already stated that 2013 would be his last on the Tour, hence the winner of four grand slams, and eight mixed doubles grand slams wants to go while playing alongside good friend.
Bopanna and Bhupathi had fought with AITA to be fielded as a team at London Olympics after latter was paired with Leander Paes.
The revolted and forced AITA to send them to London as team even as a medal eluded the duo.
Photograph: Matthew Stockman/Getty Images