...but Andy Murray has beaten him four times in a row and in eight of their 14 matches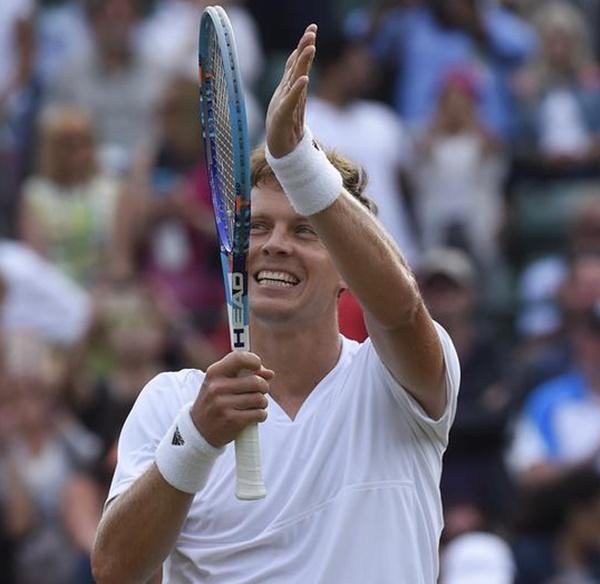 IMAGE: Czech Republic's Tomas Berdych celebrates winning his match against France's Lucas Pouille. Photograph: Toby Melville/Reuters.
Tomas Berdych gets a shot on Friday at his second Grand Slam final in 52 attempts, but the perennial top-10 player from the Czech Republic will not shed any tears if he makes it but fails to lift the Wimbledon crown -- provided he gives his all.
Berdych, who on Wednesday ended Frenchman Lucas Pouille's unexpected love-affair with the All England Club in straight sets, ground through the gears after a slow start to beat a man who had never won a match on grass before last week.
"Lucas had a great run. I was trying to find my rhythm in the first set," said 10th seed Berdych, whose best showing at a major was at Wimbledon in 2010, when he lost in the final to great Spaniard Rafael Nadal.
Standing in his path as he tries to go one better is another formidable presence in the shape of second seed Andy Murray, a player who has beaten him four times in a row and in eight of their 14 matches.
So how would the 30-year-old Czech, ranked in the top 10 for six years feel if he fell at the penultimate hurdle -- or never made it that far again in a Grand Slam?
"At the end of the day, the most important thing is that you can stand and say, Okay, I've tried everything that I possibly can," he told reporters.
"If you made it one day, great. If not, what can you do?"
Berdych, who will be playing his sixth major semi-final on Friday, carried more court time -- nearly 11-1/2 hours over four matches -- than any other player into his quarter-final.
He spent just two hours more on Court One in what turned into a relatively routine 7-6(4), 6-3, 6-2 win over Pouille.