Saina Nehwal advanced to the second round of women's singles with a comfortable win but Parupalli Kashyap went down fighting against former World No. 1 Taufik Hidayat of Indonesia in the first round of the men's singles in the Yonex Sunrise India Open in New Delhi, on Wednesday.
Saina hardly broke a sweat to overcome Belaetrix Manuputi of Indonesia 21-12, 21-15 in just 33 minutes while Kashyap put up stiff resistance before losing 21-13, 21-23, 18-21.
While K Srikanth posted an upset victory over World No. 6 Jan O Jorgensen of Denmark in another men's singles event, Arvind Bhat expectedly lost to World No. 8 Kenichi Togo.
RMV Gurusaidutt and Ajay Jayaram won their respective matches against Indonesian Tommy Sugiarto and Vladimir Malkov of Russia.
While Gurusaidutt won by 21-16, 21-17 margin, Jayram defeated the Russian with identical game scores of 21-17, 21-17.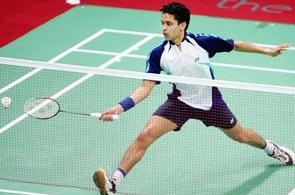 Talented P V Sindhu came from behind to win 17-21, 21-18, 21-14 against Yao Xue of China in the women's singles.
Kashyap has never defeated Taufik in six meetings.
In the opening game, Kashyap gave Taufik a run for his money. Relying on his quick smashes and drop shots at the net, the Indian proved better.
The World No. 7 surged ahead to a 16-10 lead and eventually wrapped up the game 21-13.
The second game, however, was a see-saw battle and could have gone either way. But Taufik raised his game when it mattered most.
Level at 20-20, Kashyap hit a smash to make it 21-20 and earn match-point. But an unforced error saw him concede it as Taufik took advantage and went on to win three straight points and seal the game 23-21.
That was probably the turning point of the match, as in the third and deciding game, Taufik enagged Kashyap in long rallies.
A few minutes later, he argued with the match referee over a line call, which made it 16-16 but that didn't break his rhythm.
Kashyap also kept his momentum going and it was neck and neck till 18-18, before Taufik ran away with three straight points to win the match.
"He was picking up my shots, so I had to play him at the net. I should have avoided him at the net but I could not help it," said Kashyap.
"It was a close match and anyone could have won it but at the end he was too good," he added.
Taufik said Kashyap should have won, but was unlucky.
"I didn't believe I could win against Kashyap. But he was not lucky today. Kashyap gave me lot of chances," said Taufik.
In what turned out to be a surprise result of the day, Srikanth beat Jan O Jorgensen 21-7, 18-21, 21-12 in 45 minutes.
The unseeded Indian hit as many as 33 smash winners compared to 17 by fourth seed Jorgensen.
However, Bhat turned out to be no match for Japan's Togo as he went down in straight games.
The Indian, who had to clear the qualifiers to enter the main draw, tried his best but lost 21-9, 21-9 in 32 minutes.
In the women's singles first round match, Sayali Gokhale could hardly pose any threat to World No. 8 Ratchanok Intanon of Thiland, and was beaten in straight games 8-21, 12-21 in 26 minutes.
India lost both its men's doubles opening round matches in the morning with the Thai combo of Maneepong Jongjit and Nipitphon Puangpuapech beating Tarun Kona and Arun Vishnu 21-17, 21-11 in 23 minutes, while Srujan Nandaluri and Vinay Kumar Reddy lost to the English pair of Chris Adcock and Andrew Ellis 8-21, 14-21 in just 21 minutes.
In the mixed doubles category, the fancied pair of V Diju and Jwala Gutta got the better of Chris Langridge and Heather Olver of England 19-21, 21-15, 21-16 in 53 minutes, while Akshay Dewalka and Pradnya Gadre got the better of Andrew Ellis and Lauren Smith of England 16-21, 22-20, 21-19 in 48 minutes.
But K Nandagopal and J Meghana lost to South Korean duo of Baek Choel Shin and Ye Na Jang 20-22, 14-21 in 28 minutes and Japan's Kenichi Hayakawa and Misaki Matsutomo beat Abhinav Manota and Rachita Sachdev 21-6, 21-8 in just 14 minutes.
Robert Mateusiak and Nadiezda Zieba beat Harinder Malik and Ekta Kalia 21-6, 21-8 in 15 minutes, while Arun Vishnu and Aparna Balan went down to Chris Adcock and Gabrielle White of England 15-21, 16-21.
Other important results:
Men's singles: Sourabh Varma (IND) bt Chetan Anand (IND) 21-13, 21-8; Sai Praneeth B (IND) bt Kento Momota (JPN) 21-17, 21-11, Anand Pawar (IND) bt Takuma Ueda (JPN) 11-21 21-13 21-19.
Women's singles: Ratchanok Ontanon [3] (THA) bt Sayali Gokhale (IND) 21-8, 21-12; Juliane Schenk [2] (GER) bt Rituparna Das (IND) 21-12, 21-15.
Men's doubles: Maneepong Jongjit/Nipitphon Puangpuapech bt Tarun Kona and Arun Vishnu 21-17 21-11, Srujan Nandaluri
and Vinay Kumar Reddy lost to Chris Adcock /Andrew Ellis 8-21 14-21.
Women's doubles: Pradnya Gadre-Ashwini Ponnappa (IND) bt Lauren Smith-Gabrielle White (ENG) 19-21, 22-20, 21-11.
Mixed doubles: Jwala Gutta-V Diju (IND) bt Chris Langridge-Heather Olver (ENG) 19-21, 21-15, 21-16; Akshay Dewalkar-Pradnya Gadre (IND) bt Andrew Ellis-Lauren Smith (ENG) 16-21, 22-20, 21-19; Sung Hyun Ko-Ha Na kim (KOR) bt Ashwini Ponnappa-Tarun Kona (IND) 21-16, 23-25, 21-19, Baek Choel Shin/Ye Na Jang (KOR) bt K Nandagopal/ Meghana (IND) 22-20 21-14, Kenichi Hayakawa/ Misaki Matsutomo (JPN) bt Abhinav Manota/Rachita Sachdev (IND) 21-6 21-8, Robert Mateusiak/Nadiezda Zieba bt Harinder Malik/Ekta Kalia (IND) 21-6 21-8, Chris Adcock/Gabrielle White (ENG) bt Arun Vishnu/Aparna Balan 15-21 16-21.
Photograph: Julian Finney/Getty Images