Venus Williams said her sister Serena was a fighter and was determined to play on at the Australian Open, despite rolling her ankle in the first round, reports AFP.
The world number three and hot tournament favourite twisted her right ankle during a 6-0, 6-0 demolition of Romania's Edina Gallovits-Hall on Tuesday.
The defiant 15-time Grand Slam champion claimed only a "fatal" injury would prevent her contesting the second round against Spain's Garbine Muguruza, and Venus also indicated she would be on court.
"I guess she has to see how she feels. I don't know how she feels, she'll see tomorrow," she said.
Asked if they had spoken about the injury, she replied: "Yeah, I was like, 'How are you feeling?' She was like, 'Yeah, I'm good'.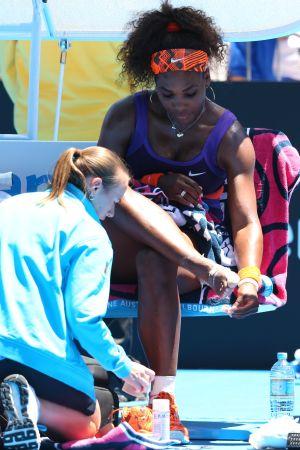 "You know, obviously I'm not going to give any details in here. She's obviously a fighter and she doesn't complain, so... She's not looking for any sympathy. She just wants to hopefully play the singles and doubles, and that's it."
The reigning Wimbledon, Olympic and US Open champion moved her scheduled session from court 17 to the indoor training facility at Melbourne Park today and her practice was closed to the media and public.
Hundreds of spectators were 10-deep around court 17 until it became clear that the five-time Australian champion would not be making an appearance. Instead, she was hitting balls indoors.
However, Williams did not appear to be in any discomfort when she was seen walking through Melbourne Park by an AFP reporter with her coach, Patrick Mouratoglou.
Leading 4-0 against Gallovits-Hall, Williams fell heavily and lay on her back for an extended time, her face in her hands. Despite this, she returned to defeat the world number 110 in 54 minutes, losing only six points in the second set.
Photograph: Michael Dodge/Getty Images