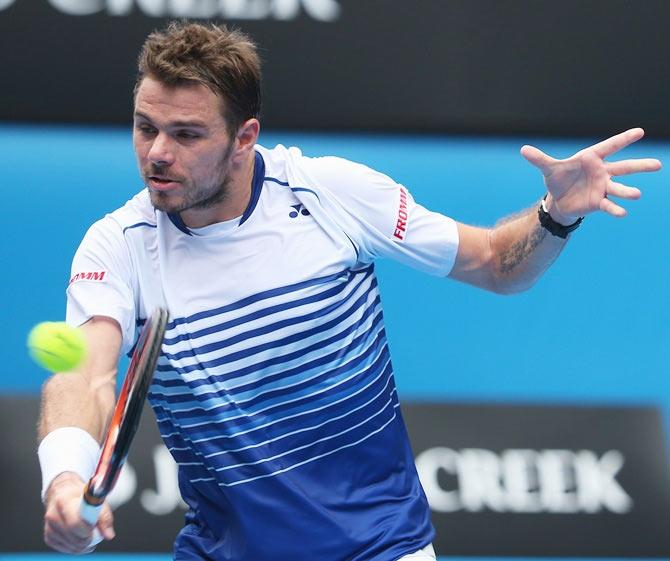 Stanislas Wawrinka of Switzerland plays a backhand in his first round match against Marsel Ilhan of Turkey. Photograph: Quinn Rooney/Getty Images
Coming back to the Australian Open as defending champion has felt surreal at times for Stanislas Wawrinka but the Swiss fourth seed was all business in his first-round thrashing of Turkish trailblazer Marsel Ilhan.
Already appearing jaded by the media attention in the lead-up, the 29-year-old Wawrinka was keen to break the seal on his title defence and was a man in a hurry as he dispatched Ilhan 6-1, 6-4, 6-2 in a tick under 90 minutes on a warm and windy day at Rod Laver Arena.
It may have been an even quicker kill if Wawrinka had not turned the match into an impromptu training session halfway through.
"I'm focused on winning the match. But in the second set I was trying a little bit to be more aggressive, trying a few things that I do maybe more in the practice," the hard-hitting Swiss told reporters.
Wawrinka will next play either accomplished Spaniard Pablo Andujar or Romanian qualifier Marius Copil.
The only solace either might take from a video review of Wawrinka's match was the Swiss battling to land more than half his first serves.
Barring that, it was a routine thrashing of a high seed against a 100th-ranked journeyman, with 34 crisply-struck winners singing off the Swiss's racquet.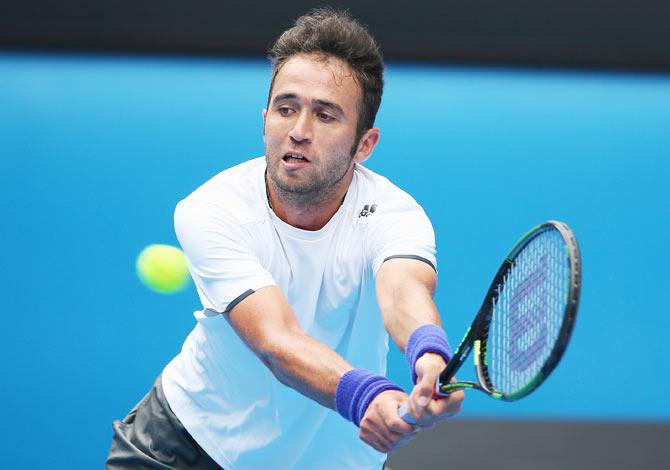 Marsel Ilhan plays a backhand in his first round match against Stanislas Wawrinka. Photograph: Quinn Rooney/Getty Images
Uzbekistan-born Ilhan became his country's first player in singles at a Grand Slam when he broke into the main draw at the 2009 US Open and he remains the only Turk to have done so.
He is also Turkey's first player to crack the singles top-100, achieving that in 2010 and peaking at 87 the following year.
Turkey boasts a WTA event and has hosted some of the biggest names in women's tennis but producing an A-grade player has proven more difficult.
Only one other Turk has played Grand Slam tennis, women's doubles player Ipek Senoglu, who made the breakthrough in 2004 when she partnered Laura Granville in a run to the US Open third round.
Though lagging behind Eastern European neighbours, 18-year-old Ipek Soylu may be the country's best bet of raising its tennis profile after teaming up with Swiss Jil Teichmann to win the US Open girls' doubles title last year.