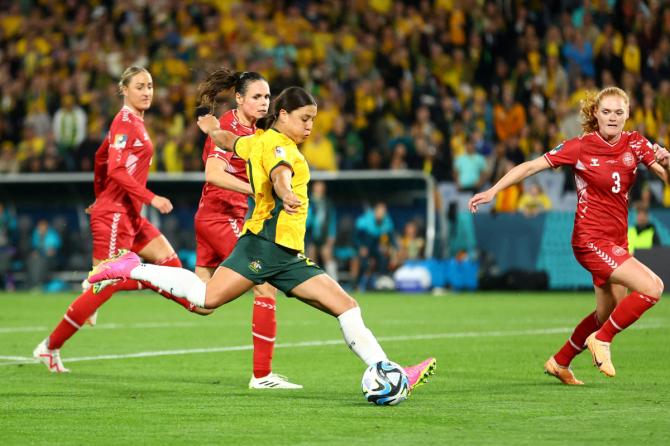 The Australian women's football team will play England this afternoon for a place in the final of the FIFA Women's World Cup.
The Matildas -- the nickname for the Australian women's football team -- is led by talismanic striker Sam Kerr.
Having played in three World Cups previously, (2011, 2015 and 2019) Kerr is Australia's all-time leading scorer with 63 goals.
It hasn't been the happiest time for Kerr at this World Cup being played in Australia and New Zealand. Kerr injured her left calf on the eve of the World Cup opener against Ireland last month and sat out all three games in the group stage.
She played her first 2023 World Cup match in Australia's 2-0 win over Denmark at Stadium Australia last Monday, August 7.
Coming off the bench in the 78th minute to applause from the 75,784 fans crammed into the stadium, Kerr's first touch was a wild crossfield pass to no one, but she was soon bursting into the box with the ball at her feet to fire a shot over the bar.
Soccer was not Kerr's first choice sport.
Sam enjoyed Aussie Rules Football (AFL) what with her eldest brother Daniel Kerr a former AFL star (played for the West Coast Eagles) and her dad, Roger, a noted former Aussie Rules footballer and coach himself.
And here's where Sam Kerr's India connection comes to the fore.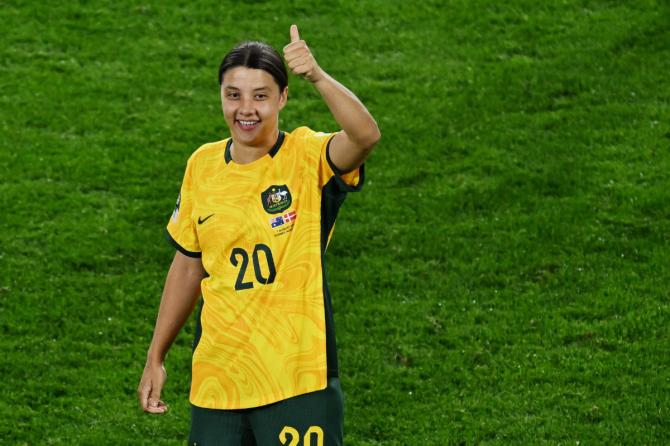 Sam Kerr's dad Roger was born in Calcutta in 1960 to Denzil and Coral Kerr, both Anglo Indians. Denzil, born in Calcutta in 1912, an engineer by training, was also a featherweight boxer for Bengal.
Coral, also born in Calcutta, was a basketball player.
The family moved to Australia in 1969. In a 2020 interview on the Matildas' official Facebook page, Coral Kerr reveals that the family was to fly to England from Calcutta, but considering her husband's health and the cold climes of England, following a doctor's advice they settled in Perth.
There was no looking back from there on for the Kerrs, who have produced not one but three sporting legends, one of them who answers to the name Sam Kerr!