Spectators at the Australian Open on Saturday got more than they bargained for when Michael Llodra and Fabrice Santoro performed an impromptu striptease after winning the men's doubles championship.
In one of the most unusual celebrations seen at a major tennis championship, the Frenchmen stripped down to their underwear after beating top-seeded American twins Bob and Mike Bryan 7-6, 6-3 to retain their title.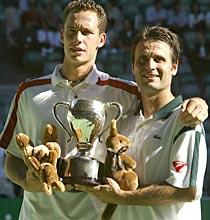 It all began innocently enough when they peeled off their shirts to bare their chests but spectators yelled for more.
The pair initially obliged by taking off their shoes and socks and tossing them into the stands.
With the Melbourne Park crowd getting hysterical, they also removed their shorts.
"It was just for fun," said Santoro, whose fiancee was watching from the stands as he began to undress.
"It was spontaneous. It wasn't a bet or anything like that."
Their light-hearted celebration ended what had been an emotional day for the two Frenchman.
Llodra wept after returning to his seat, covering his head in a towel as the tears began to stream down his face.
"It was difficult for me because last year I lost my mum," the 23-year-old explained.
"We lost a couple of times in the final last year and I wanted to prove to my mum (that we could win). It was very emotional."
Santoro, 31, also had a point to prove after he was dumped from the French Davis Cup squad for next week's tie against Croatia even though Llodra was retained.
"I think together we are one of the best or the best team in the world," Santoro said.
"It's sad that we won't play together next Saturday."
The Frenchman snatched the first set in a tie-break after Santoro and Mike Bryan had both been broken twice.
They sealed the match after Mike Bryan dropped serve again.