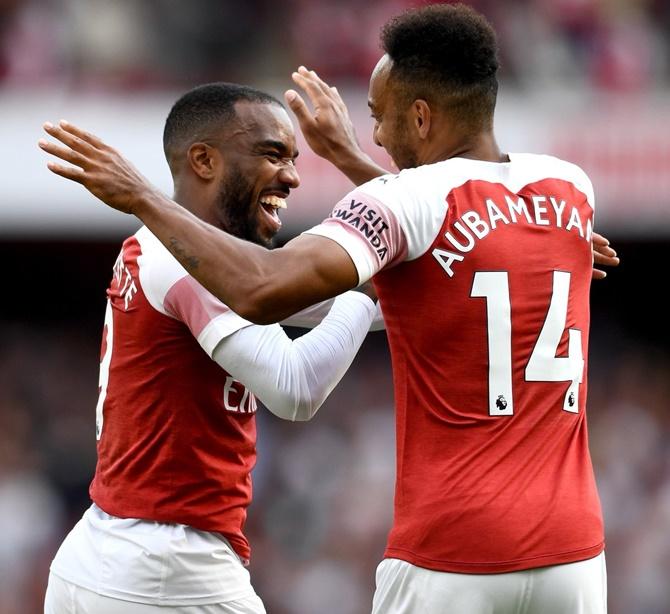 Arsenal forwards Pierre-Emerick Aubameyang and Alexandre Lacazette missed last week's defeat by Brentford due to positive COVID-19 tests, the Premier League side confirmed on Thursday.
While Aubameyang has tested negative since and is in contention to feature against Chelsea on Sunday, strike partner Lacazette is still recovering from the illness.
Others in the squad who returned positive tests include goalkeeper Alex Runarsson and winger Willian, both of whom are unlikely to take part in Chelsea's visit to the Emirates Stadium.
Manager Mikel Arteta's side have been further depleted by injuries to Thomas Partey, Gabriel Magalhaes and Eddie Nketiah, with all three ruled out for Sunday.
Arsenal, who lost 2-0 to Brentford last week, have a series of tough fixtures ahead of them, with the Chelsea game followed by a trip to champions Manchester City.
Brighton's Potter urges players to get vaccinated after family member's COVID death
Brighton & Hove Albion manager Graham Potter has encouraged players to get vaccinated against COVID-19 after losing a family member to the disease.
The number of positive tests in the Premier League have been on the rise recently, with 11 new cases reported in the latest round of testing on Monday.
"I've had first-hand experience of a family member that wasn't vaccinated and unfortunately lost their life with the illness," Potter said ahead of Saturday's Premier League home game against Watford.
"He was 48 -- not the same age as the players of course, but young with two kids, so it's tragic.
"I would advise (vaccination) because I don't want anybody else to go through that," Potter added.
"It was devastating to go through and witness, and tragic for the family. It was last week, unfortunately. It was a quick illness, (he) responded badly to it and went downhill really quickly."