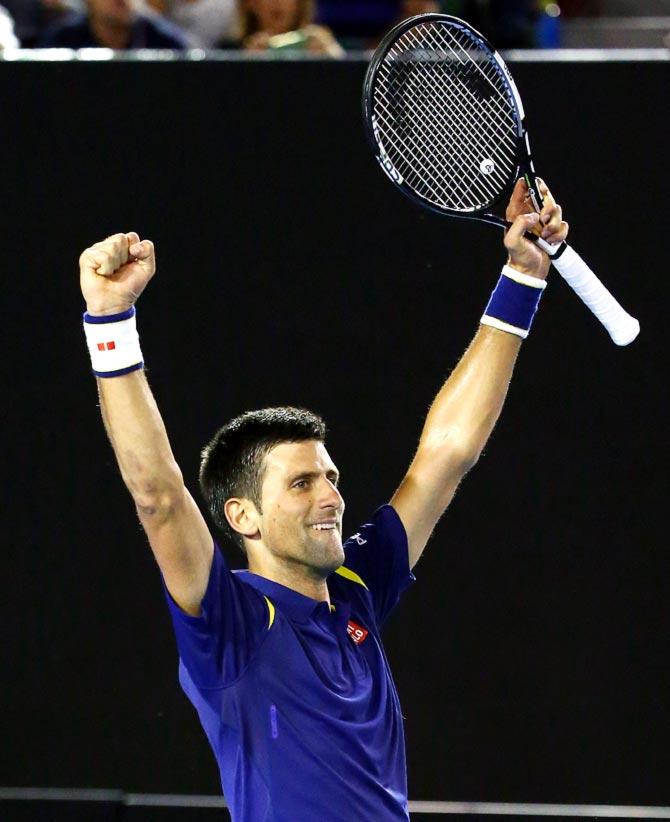 IMAGE: Novak Djokovic celebrates. Photograph: Scott Barbour/Getty Images
Serbian tennis ace Novak Djokovic has continued his domination on an unchanged top 10 in the latest men's tennis rankings issued by the ATP on Monday.
The 28-year-old tops the table with 16,540 points, after defeating Kei Nishikori 6-3, 6-3 on the Florida hardcourt to clinch his sixth Miami Open title on Sunday.
With the win, Djokovic has also equaled former world number one Andre Agassi's Miami record total of six crowns.
Meanwhile, Australia's Nick Kyrgios has made it to the top 20 for the first time in his career after storming into the semi-finals in Miami.
Belgian David Goffin, who suffered a semi-final defeat at the hands of Djokovic, climbed up couple of places to the 13th spot.
ATP top 10 tennis players are:
1. Novak Djokovic
2. Andy Murray
3. Roger Federer
4. Stan Wawrinka
5. Rafael Nadal
6. Kei Nishikori
7. Tomas Berdych
8. David Ferrer
9. Jo-Wilfried Tsonga
10. Richard Gasquet