'We are so focussed on what we are doing that we don't now pay that much attention to it really'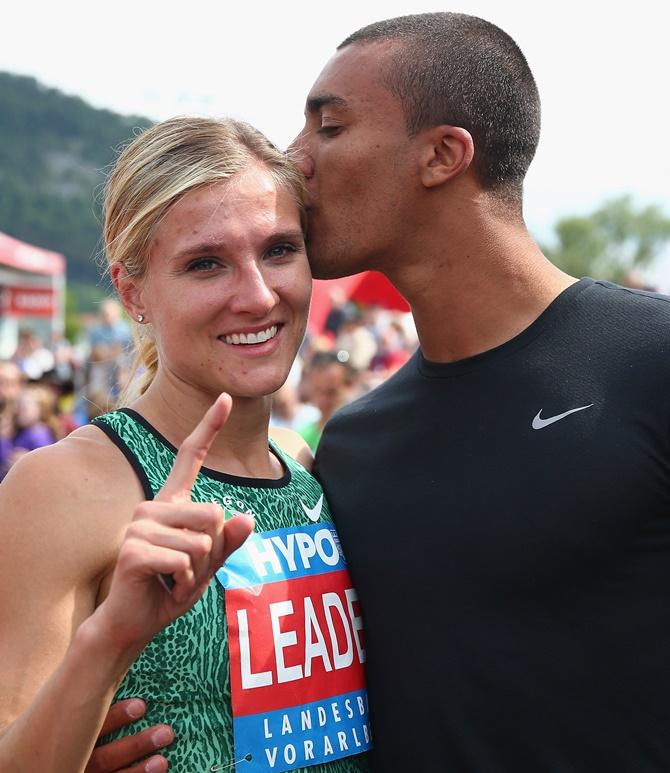 IMAGE: Brianne Theisen Eaton celebrates with her husband US Olympian Ashton Eaton. Photograph: Ian Walton/Getty Images
Ashton Eaton and Brianne Theisen-Eaton, athletics' best-known couple, are not letting widespread concerns about the Zika virus stand in the way of a bid for unprecedented double gold medals at the Rio Olympics.
Will Zika virus keep athletes away from Rio Olympics
The mosquito-borne virus has been linked to brain damage in thousands of babies in Brazil and both international health and sports officials are urging vigilance by those travelling to the August 5-21 Rio Games.
But for Canadian world heptathlon silver medallist Theisen-Eaton, 27, and US decathlon world record holder and reigning Olympic champion Ashton Eaton, 28, their eyes are on the prize.
"We are so focussed on what we are doing that we don't now pay that much attention to it really," Theisen-Eaton, who has no plans to start a family until after she finishes competing, said in a telephone interview with her husband.
"When it gets closer maybe we will think about it more," added her husband.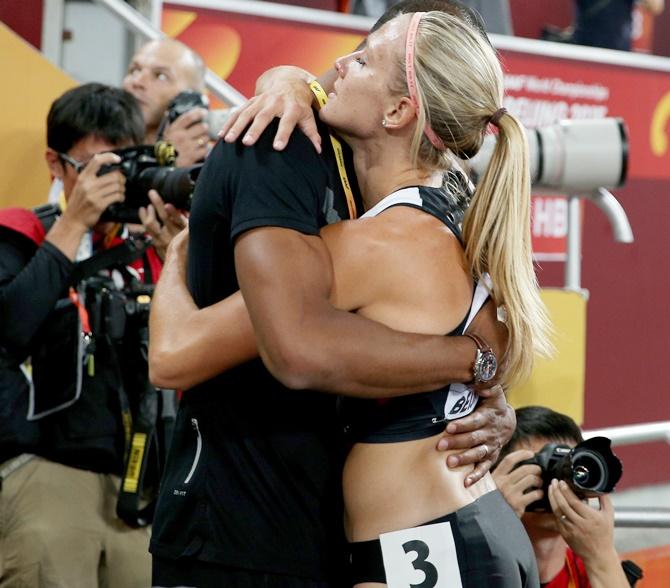 IMAGE: Brianne Theisen Eaton of Canada embraces Ashton Eaton. Photograph: Patrick Smith/Getty Images
The Oregon-based athletes are hoping to become the first married couple to win individual gold medals at the same Olympics.
"The gold medals together would be huge," said Theisen-Eaton. "But I think it is more like finishing that story, like closing the book on that whole journey.
"Since 2007 when both of our careers kind of started and took off, we have trained together and we have been going through every day together.
"The two gold medals would be more like the cherry on top."
The couple, who have not decided when they will retire, are hoping their journey will inspire others to achieve goals they never realised were possible.
They launched a storytelling contest this week called #WhatsYourGold to urge people to work to overcome obstacles.
"It is literally open to anything," said Eaton. "I want to add on an addition to my house but I have never built anything in my life. It could be a student that says maybe they want to get their degree and graduate with a certain GPA.
"That's what we want people to do. Select a goal or gold and go after it."
A trip for two to the Olympics to watch Eaton defend his decathlon title and Theisen-Eaton go for gold in the heptathlon awaits the person with the best story.