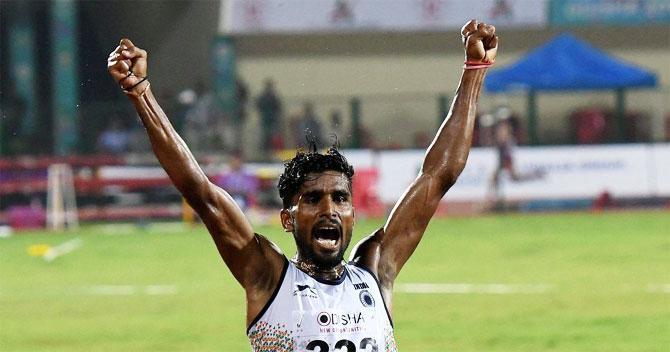 Asian champion Govindan Lakshmanan grabbed a gold medal in men's 5000m race while three meet records fell by the wayside on the opening day of the National Inter-State Athletics Championships in Guntur, Andhra Pradesh, on Saturday.
Lakshmanan, representing Tamil Nadu, won the men's 5000m event, clocking 14:07.76. Uttarakhand's Man Singh (14:20.50) and Kalidas Hirave (14:24.91) of Maharashtra were in second and third positions respectively.
The 27-year old Lakshmanan, who bagged a gold medal at the recently concluded Asian Athletics Championships in Bhubaneswar, has already qualified for the World Championships to be held in London next month.
Meanwhile, Loganathan Suriya (women's 5000m), Anu Raghavan (women's 400m hurdles) and Sarita Singh (women's hammer throw) all created meet records at the newly-laid blue colour track at the Acharya Nagarjuna University ground.
Tamil Nadu's Suriya (15:46.92) finished ahead of Asian Athletics Championships bronze medallist Sanjivani Babur Jadhav (16:35.64), representing AFI, and Preenu Yadav (16:56.60) of Delhi.
Suriya, hailing from a small village at Pudukottai in Tamil Nadu, broke the earlier meet record of O P Jaisha (15:57.05) which stood for three years.
In the evening session, Anu Raghavan of Kerala broke the meet record in women's 400m hurdles with a personal best of 57.21secs. Jauna Murmu of Odisha (58.68) and Gujarat's Sarita Gaikwad (1:00.27) finished second and third respectively.
Raghavan, who secured a silver medal at the Asian Championships, improved upon Ashwini Akkunji's meet record of 57.43.
The men's 400m hurdles saw local favourites, Jabir M P (50.33) and M Ramachandran (51.17) of Andhra Pradesh, clinching the top two positions. Tamil Nadu's Santosh Kumar (51.40) came in third place.
Sarita Singh, who set a national record at the Federation Cup last month, also created a new meet record in women's hammer throw with a best throw of 63.22m. She eclipsed the earlier meet record of Manju Bala in her fourth attempt.
Fellow athlete from Uttar Pradesh, Gunjan Singh (59.34m) came second while Punjab's Sarabjeet Kaur (53.96m) was third.
Manpreet Kaur did not disappoint, picking up gold for Haryana in women's shot put with an effort of 15.65m. It was a below-par show by the Asian champion but her performance was enough to put her at the top of the podium ahead of UP's Anamika Das (14.42m) and Punjab's Ramanpreet Kaur (14.25m).
By the virtue of winning their respective events in the Asian Championships, Lakshmanan and Manpreet have already qualified for the World Championships but no other athlete qualified for the mega event, to be held in London.
Image: Govindan Lakshmanan
Photograph: India All Sports/Twitter