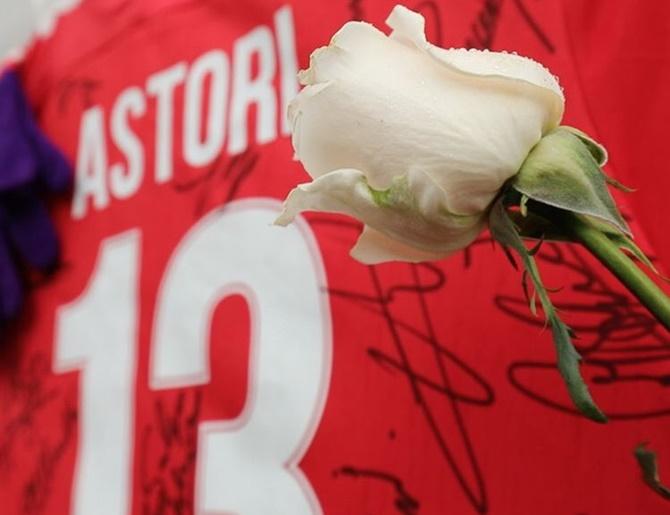 IMAGE: Fans pay tribute to Davide Astori. Photograph: Fiorentina FC/Twitter
Fiorentina players paid tribute on Tuesday to Davide Astori, their captain who died suddenly on Sunday at the age of 31, while the club announced that it would retire the defender's number 13 shirt.
Cagliari also said that they would stop using the number 13 shirt which was worn by Astori during six seasons at the Sardinian club earlier in his career.
Led by coach Stefano Pioli, the Fiorentina squad gathered at the gates of the Artemio Franchi stadium where the team play their home games and placed a picture of Astori alongside the banners, scarves and messages previously left by fans.
They then stood in a semi-circle and applauded.
The club said in a statement that they would take part in a training session in the afternoon.
Astori, who made 289 Serie A appearances in 10 seasons and played 14 times for the national team, was found dead in his room at the team hotel in Udine where Fiorentina had been due to play Udinese on Sunday.
That match was postponed along with all other Serie A games.
"In honour of Davide Astori's memory and to make his memory indelible, Cagliari and Fiorentina have decided to retire the No. 13 shirt," Fiorentina said on Twitter. Cagliari posted a similar message.
The municipal government of Florence has declared a day of mourning for Thursday when Astori's funeral will take place. Schools and businesses have been asked to observe one minute's silence at 1300 local time (1200 GMT).
Pochettino devastated by death of Astori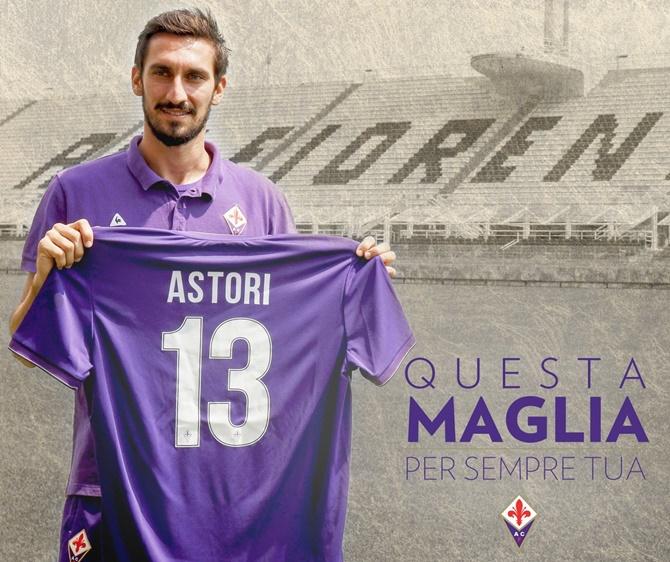 IMAGE: Fiorentina retires Davide Astori's No 13 shirt. Photograph: Fiorentina FC/Twitter
Tottenham Hotspur manager Mauricio Pochettino said he was devastated over the death of Fiorentina captain and Italy international Davide Astori, saying he tried to sign him while manager of Southampton.
Pochettino began his news conference ahead of Tottenham's Champions League last 16 second leg clash against Juventus with a moving tribute to the 31-year-old defender.
"I want to send all my condolences to Davide Astori and all the people that love him and I think it's a massive tragedy," Pochettino told reporters.
"I had the possibility to meet him five years ago because it was my idea to sign him when we were at Southampton.
"I took three hours to have lunch with him and he was a great kid, great person, great professional, great player.
"It was very sad news on Saturday, devastated to hear the news and we share the pain with all the people in Italy and Florence and I send all my energy to his family."
Pochettino has first-hand experience of a similarly tragic event. He was manager of La Liga side Espanyol when his player Dani Jarque died during pre-season training in Florence.
"I know it's so difficult, it's impossible to take away that pain and find an explanation," he said.
"It's so difficult, it's so difficult to understand what happens in these type of things."
Astori was found dead in his hotel room on Sunday in Udine where Fiorentina had been due to play Udinese in the league. All of Sunday's Serie A matches were postponed.
There will be a minute's silence in tribute to Astori before kickoff at Wembley on Wednesday, as there will be in all this week's Champions League and Europa League fixtures.