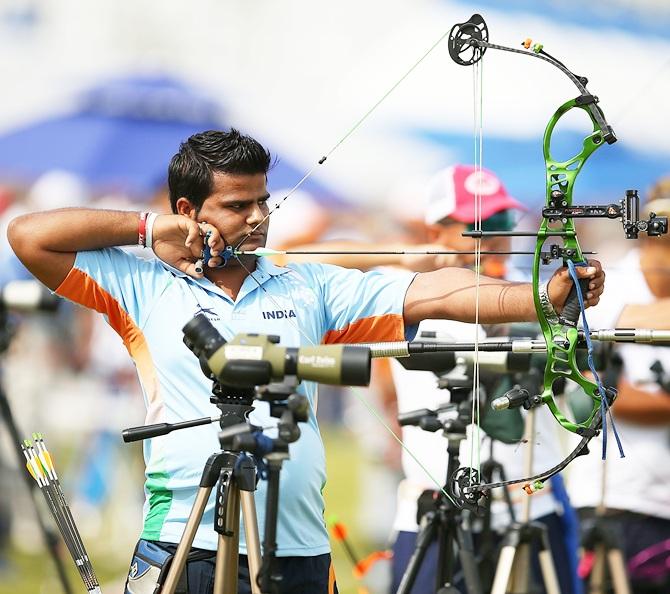 Sandeep Kumar of India competes in the Men's 50m Compound Qualification Round. Photograph: Brendon Thorne/Getty Images
India assured themselves of at least another silver medal in the 17th Asian Games after the trio of Abhishek Verma, Rajat Chauhan and Sandeep Kumar entered the final of the compound men's team archery event in Incheon on Thursday.
The trio of Verma, Chauhan and Kumar defeated Iran, comprising Esmaeil Ebadi, Majid Gheidi and Amir Kazempour 231-227 in the seimfinal at the Gyeyang Asiad Archery Field.
The Indian men's team will now face formidable Korea in the gold medal match. The hosts defeated Philippines 228-227 in another semifinal encounter.
It was heartbreak for India in the women's compound women's team event as the trio of Trisha Deb, Purvasha Shinde and Jyothi Surekha Vennam lost to favourites Chinese Taipei in the semifinal.
The Indian trio gave the Chinese Taipei side a run for its money before going down 224-226.
The Indian eves, however, has a chance to finish on the podium as they take on Iran in the bronze medal match on Friday.
Iran lost to Korea 222-229 in another women's team semifinal.
Earlier in the day, the Indian men's team defeated Qatar 233-218 in the round of 16 elimination before getting the better of Malaysia 234-229 in the quarterfinals.
The eves, on the other hand, overcame Kazakhstan in a shoot-off to set up a semifinal clash with Chinese Taipei.